Exercise has never been a priority for me. I've never played any sports, and I most certainly wouldn't call myself active. Unless you call running after seven kiddos all day active.
For a bit, several years ago, I did try to establish a regular exercise routine, with the help of the WiiFit. I ran in place, did yoga, and even tried making exercise fun by doing the hula hoop simulation. But, I didn't quite succeed in making these activities a habit and exercise again became forgotten. I simply did not make the time.
Now that our kiddos are older – (can you believe Timmy is almost 4 years old?!) – Ray and I have decided that we need to make the time to get in shape. So, we joined the gym and hired a personal trainer to kick our butts help us do just that. During my first session with John, I stretched and used muscles I didn't know I had. In addition, John gave us strict orders to log every thing we eat, as well as giving us guidelines for what to eat.
Just to be clear, my goal is not to lose weight, but to build muscle strength. I am working muscles I didn't know I had and most certainly had not been using.
After just one week in, I was off to TypeA at Disneyland. Away from the gym, but out in the fresh air for most of five days. My friends and I walked a total of 25 miles in those five days we were gone. And, boy, did it feel good! Not only was I working those muscles that John helped me loosen up, but I felt better for it.
I'm not exactly sure what switch was flipped, but I kinda fell in love with this being active thing. I am making a point to walk every day, even if I don't make it to the gym. I am stretching tight muscles and learning how to use them properly. And I'm eating a more healthy diet. I have more energy, sleep better at night. But, the best part? Gone almost completely are the aches and pains that were once all too familiar.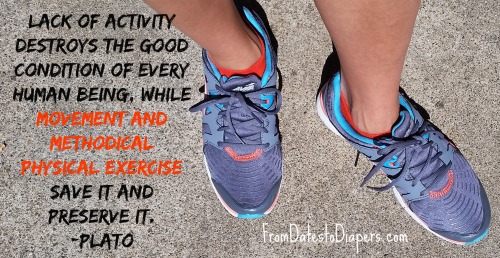 To assist in making my new exercise routine optimal, I had to buy some active wear. Walmart has a great variety, but I really like the Avia line. Not only do they have some great clothing options, but the sneakers are great, too. I got myself a pair of Training sneakers (pictured above) for my daily activity, and I've decided that I'm most comfortable in performance capris ($14.86 each) and tanks ($7.86). The sports bras are quite the bargain, at only $12.46 each, and some of the most comfortable I have found.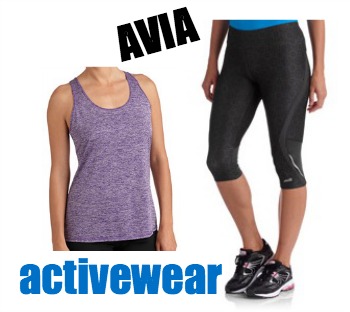 What do YOU do to stay active?
As a participant in the Walmart Moms Program, I've received product and compensation for my time and efforts in creating this post. All thoughts and opinions are my own.