Family time in the Young household is very important, especially because we are such a big family and we know the value in staying connected. This dedicated time that we spend together is very special and we create many fun memories.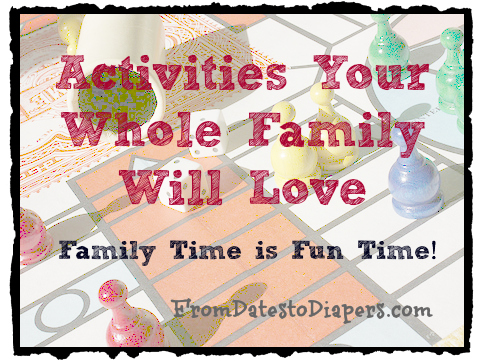 Here are some of the ways we spend quality time together…
Each week we have a family movie night. We take a break from school, work – pretty much everything – and gather around in our living room. Every once in a while we will order pizza for movie night; that way we don't have to cook, and clean up is a breeze. We plan to purchase enough 3D glasses for everyone so our next movie night will be extra special, thanks to our new Samsung Smart TV! We already have the movie all picked out – Marvels Avengers. (Honestly, I didn't even realize that our ES8000 had the 3D feature until we pulled it out of the box and discovered four pairs of glasses!)
Family game night is always popular. Uno, Dominoes, and Parcheesi are some of our most played board games. The twins like to play chess with Ray and I am holding out hope for the day that I can talk everyone in to playing Yahtzee with me! We now also play play Angry Birds and Cut the Rope on our new TV, using motion detection. Darts and Memory are a few more that the younger kids enjoy playing.
We all have such a blast on family outings. Sometimes we'll spend time at museums in downtown Sacramento – the Train Museum is a blast – and we all look forward to Pioneer Days over Labor Day weekend every year. San Francisco is another one of our go-to places to spend a family day – Fisherman's Wharf is always a treat and the Ride the Ducks Tour is tons of fun. And, of course there is Lake Tahoe – the perfect place to spend an afternoon in the winter, just after a snow storm.
Campfires after dark means scary story time and our most favored treat – S'mores. We love to build a fire on warm summer days and even on cool autumn evenings, as long as we can get all bundled up.
YouTube browsing has quickly become a favorite pass-time for our family. Ray and the twins recently spent an entire evening watching videos of goofballs doing the Cinnamon Challenge. Look 'em up – they'll keep you busy for hours and before long you'll be tempted to try it!
We also have special nights with each of the kids. One by one, youngest to oldest, each child gets to stay up past bedtime and they choose an activity to do with Ray and me. Sometimes they choose to watch a movie or show, and often times they decided they'd like to play a game with us. Since Timothy was born we haven't made the time to do these special nights, but about two weeks ago Ben asked me when he could have his night to stay up. So, we started these individualized again. First was Noah, then Ben, and so on. My kids love their nights to stay up, because they get to do what they want to do without having to compete for our attention!
What are some of the ways you spend quality time with your family? Please share!
This is post 2 of 8 Samsung Smart TV with Motion Control sponsored posts. All opinions are mine.