Our kids thought we had a very boring TV. It was a Samsung, of course, but it was simple and small. It couldn't do much more than show our favorite movies and make it possible to play our favorite Wii and Xbox games. Lame, huh? Most of our kids begged us for weeks to purchase a larger, better TV. So, they pled their case and we listened…
Wouldn't you like to watch a show, or sit quietly in the living room with your friends, while we play our games or watch a movie in the other room? Why yes, that would be nice.
What if we want to have our friends over to watch a movie, but you guys want to watch something else? It'd be great to have a nice TV in the living room and one in the front room, wouldn't it? Yes, of course.
This got us thinking…
We do love to sit in the living room in the evenings and talk quietly after a long day, not to be disturbed by gaming lingo and music.
Ray does enjoys watching soccer tourneys on Sunday afternoons, while I find them boring and the kids would much rather be playing soccer than watching.
Our family movie and game nights could be way cool with a Smart TV. We could access Netflix or Vudu directly from the TV. A smart TV – one with motion detection – may even get us up and moving.
We convinced ourselves we needed a new TV, finally caved, and so began our search for a larger, better TV. We didn't look very long before I got an email from the folks at Samsung. They wanted us to be a part of their 8 week Families in Motion campaign and try out their newest Smart Tv – the ES8000. Talk about perfect timing!
So, yeah… We had a boring TV. But, now? We have a Smart TV.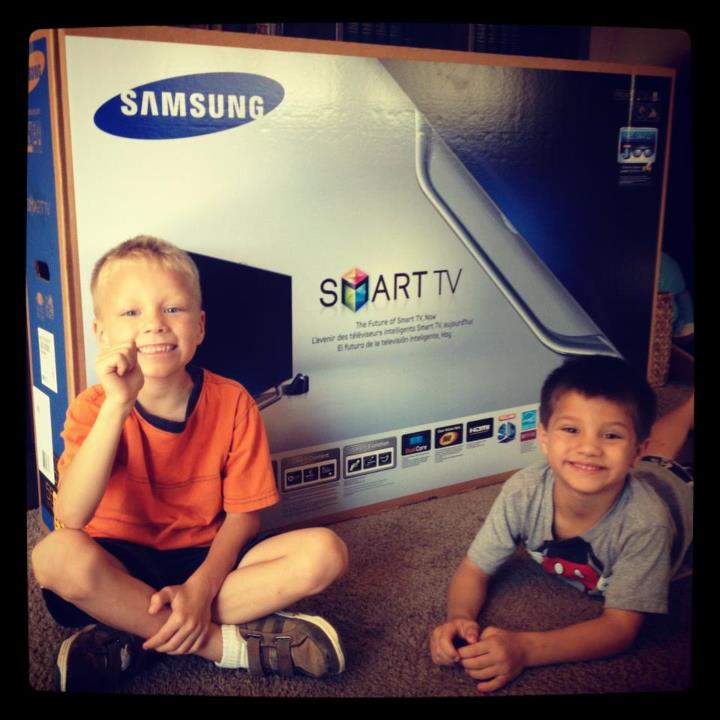 The kids were thrilled when our Samsung Smart TV ES8000 showed up as a total surprise to them all. Ben and Noah got to break the good news to the older kiddos when we picked them up from school. They just couldn't wait to get home and check it out!
It was several days before we pulled our new TV out of the box. Not at all because we liked our old TV better, but I think we were just nervous about setting it up. After all, it's a Smart TV, and this was a first for us. But, there really wasn't anything to worry about and setup was a breeze.
So far, we have played YouTube videos, browsed the interwebz, Skyped with my brother and sister-in-law, and we've had a couple of movie nights. This afternoon we're all gonna try out the new (to Samsung Smart TV) Angry Birds game. I am fairly certain that, even after three weeks, we have yet to really see just what this TV can do. Can't wait to share all that we discover with you!
Samsung launched a fun sweepstakes last Saturday. To enter, make sure you follow @SamsungTV and then tweet a photo of yourself playing Angry Birds on a Samsung Smart TV with the hashtag #AngryBirdSaturdays. There are some great prizes, including Samsung Blu-ray players, Angry Birds Plushies and the grand prize of a new Samsung ES8000 Smart TV. Don't worry if you don't own a Samsung Smart TV – you can play the game at many retail locations!
This post is 1 of 8 Samsung Smart TV with Motion Control sponsored posts. All opinions are mine.