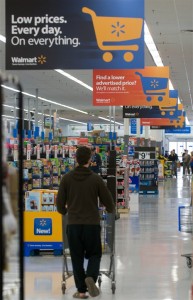 Walmart promises Low Prices. Every Day. On Everything. But, what exactly does that mean? Well, for starters, we all know about Walmart's Rollbacks. I'm sure you've seen Mr. Rollback and the fun commercials that have been created to make us aware of the prices of our favorite items being rolled back.
Well, Walmart is once again making steps to put the customer at the center of everything and taking specific steps to deliver one-stop shopping, and to reinvigorate their fundamental price promise, Walmart is stepping up its efforts to provide low prices, which include:
Increasing competitive price checks: Store managers and product buyers are checking the competition more often to help ensure Walmart stores offer lower prices on the right mix of items.
Partnering with suppliers: The retailer is working even more closely with suppliers to lower the cost per item and pass those savings on to customers.
Implemented new associate training: Extensive associate training helps to ensure the policy is executed consistently across all stores.
I'm so happy with these changes, and will attempt to explain some of them in the next couple of posts, so as to help you understand what this all means for us as Walmart customers. Good things, for sure!
I have been compensated by Walmart, as a Walmart Mom, for my time and efforts to create this post. All thoughts and opinions are my own.