Ethan and Zach both had night terrors when they were babies. I remember being a young and frightened mama, whose babies would thrash around and scream, for no apparent reason, while not responding to me. One second they were reaching out for me, and the next they would push me away.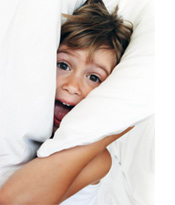 Fast forward five years… Zach hadn't had a night terror since he was a baby, but Ethan was now almost 6 years old and the night terrors were becoming quite frequent.

I remember one afternoon, in particular, because it scared me silly. Ray wasn't home, and I had just settled the kiddos in for a nap. Josh, my baby at the time, was finally sleeping and the house was quiet when Ethan started screaming. He stumbled out of his bedroom towards me and doubled over, crying out as if in pain. I ran over to him to make sure he was okay and he started yelling, "It hurts, mommy. It hurts." Not realizing that he was asleep, I asked him what was wrong and he yelled, "Make it go away." I held him, not knowing what else to do, but he began to grunt.

He then jumped out of my arms and pointed across the room, saying "It's over there. It's over there…" At this point, he spread out his arms and arched his back, leaning forward over me, all the while grunting. He yelled again, "Make it go away." Instantly I began to pray… at this point there was nothing else to do. He collapsed in my lap, a sweaty mess and began to breathe normally, fast asleep in my arms.

Talk about a scary afternoon!

This happened again several nights later, and again.

Fast forward two more years… There was one night that Zach and Ethan both had night terrors. They both ended up in bed with Daddy and me, at different times. It was pretty unusual for Zach and he hasn't had another night terror since.

A year went by and nothing. Until last night. As Ray and I were watching a movie with some good friends, I heard screaming coming from the boys' room. Some of the boys had been sick, so I assumed it was one of them, but then I heard it…The ear piercing scream of my oldest son and then that of his twin brother.

Ray and I both ran upstairs to find Zach in hysterics and Ethan pacing the room. Zach was awake and convinced that something was horribly wrong with Ethan, but it was yet another night terror.

Ethan was clearly not awake. I could tell by the look in his eyes. He looked at Daddy, then at me, panting as he paced. He started crying and screaming all at once, as he mumbled something about Josh and Joshie's bed. Ray calmed Zach down, and got him settled back in to bed, and I held Ethan in my arms. I tried to sooth him, but I knew it wouldn't be over until he woke up.

Still, I had to try. It's pure torture for a mother to watch as her child appears to be in such pain and stress.

As I was explaining to Ethan that Josh was okay, knowing full well that he wouldn't remember anything in a few minutes, it was as if a switch flipped and Ethan was awake. He gazed at me, confused and wondering why he was standing in front of me as I talked about Joshie and his bed.

Scary stuff, but I thank God that Ethan never remembers any of it!