Baby Gear
Those two words conjure up a wide range of feelings for me. Memories of everything from anxiety to excitement fill my memory. And these days, just a twinge of sadness is felt.
Of course, over the last eleven years I've seen more than my fair share of highchairs, carseats, strollers and bouncy seats. But, that sadness does show itself when I think about my days as a mom of teeny tiny babies being over.
I now have seven very mobile children and no infants.
Sigh.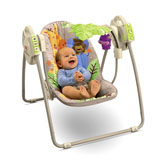 At any rate, when I think back to when I had lots of babies to snuggle, and remember all of the baby gear we needed, I'm happy to be entering a new phase of parenthood. In those baby years, however fun, we had a house full of Pack 'n Plays, bouncy seats, activity centers, swings and even Johnny-Jump-Ups hanging from the doorways. Yes, long before the Jumperoo.
All of these items I found to be essential at different points during my babies' first year. If not for their enjoyment and development, for my own sanity.
There were some things that I wanted but didn't have, simply because there was no more space in our house! Thanks to the advice of other parents, things like a changing table didn't enter our home until this last year – we changed the first six on the bed, couch or even the floor. We didn't even have room for a crib for a couple of babies, but cleared out a safe place in our master closet and set up a Pack 'n Play for a cozy nursery.
Over the years our list of essentials changed, too, of course. Table chairs replaced highchairs, after a few babies, and potty seats replaced potty chairs. However, one thing has stayed the same through the years – the need for safe and comfy baby carriers, car seats and strollers!
What are your essential gear products? Leave me your answer in the comments and you will entered to win a $25 gift card to Fisher-Price.com. Winner will be chosen at 9pm (PT) on Friday, December 4th.
This post is sponsored by BabyCenter in conjunction with the BabyCenter Blog Network. All prizes and compensation are provided by BabyCenter.