Don't miss Part One or Part Two!


EPCOT Theme Park

The EPCOT Theme Park is divided into two halves, the international half and the technology half, at least I think it's technology… seems to make the most sense.

The international side features restaurants, architecture, gifts and stores all staffed by young people from that particular nation, 11 in total. These include Morocco, Italy, France, the UK, China, Mexico, Canada (isn't that the 51st state?), Japan, Germany, and the U.S. (aren't we already in the U.S.?).

While Chris was hanging out with her fellow Magical Moms, Josh and I had dinner at the Moroccan restaurant tucked away in the narrow streets of Casablanca, and yes, it's just like you'd imagine it should be, dark and mysterious! I wouldn't have been surprised if Alladin had flown by on his magic carpet. The baklava was good and Josh had a very ethnic plate of chicken fingers.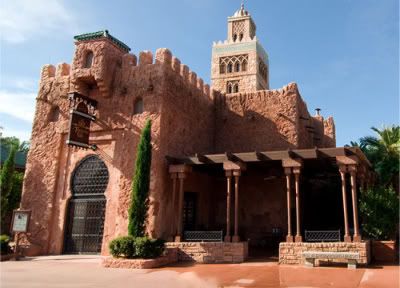 Morocco Pavilion


In the technology half of the park, Josh was very excited to go inside the "big ball" and experience the advance of technology through the ages, from early man to the space age. We went on "Soarin'," which is exactly the same ride as California Adventure's "Soarin' Over California," twice. But I'm not sure why they have different names.

We also took a ride on GM's "Test Track," which you can't do in California. It's a simulation of a test track that GM puts all their vehicles through. I wonder who will sponsor this ride after Obama's through with the company – will they call it Gub-ment Motors?

We also found Nemo, which is a little different than the submarine ride of the same name in Disneyland. In this version you sit in a clamshell and you don't get the "underwater" experience. But Josh liked it none-the-less.

If visiting Walt Disney World, EPCOT is not to be missed… We could have spent all day touring through each of the countries!

Have you been to EPCOT? What did you think? What was your favorite country to visit?

Up next :: Disney's Animal Kingdom