On Friday some of my best friends and I spent the entire afternoon doing one of our favorite things – baking! Eggland's Best sponsored this fabulous baking party and we even had door prizes! We made Quiche, Cranberry White Chocolate Chunk Cookies and homemade ice cream, all with Eggland's Best eggs. (See recipes below.)
QUICHE
Line pie pan with pie dough and sprinkle with salt and pepper. Layer with grated cheese, sauteed spinach, sauteed mushrooms, sauteed onions and diced tomatoes. Pour mixture of 6 Eggland's Best eggs and 1/4 cup milk. Bake at 375º for 45 minutes.
VANILLA ICE CREAM
Beat 2 Eggland's Best eggs in a large bowl until thick and lemon-colored (about 5 minutes). Add 1 cup sugar and beat until light and fluffy (about 3 minutes). Stir in 2 3/4 cup half & half, 1 tablespoon vanilla and 1 cup whipping cream and pour in to ice cream canister. Follow manufacturer's directions. Makes 2 quarts.
CRANBERRY WHITE CHOCOLATE CHUNK COOKIES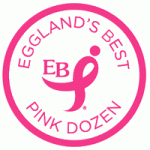 This post is sponsored by Eggland's Best.
I received monetary compensation for my participation,
but my review and opinions are my own.