Our kiddos have been back to school for three weeks now. I feel like we're just getting in to a good routine. Well, it's a routine anyway.
Home.   Snack.   Homework.   Playtime.   Dinner.   Chores.   Showers.   Bed.
Every night. The same thing.
There is one thing that is generally not ever the same (in the same week, anyway!). And that is our evening meal. Dinner during the week has to be easy and quick to prepare, affordable (totally possible when shopping at Walmart), healthy, and delicious. Most of our kids like to help in the kitchen, so many of the meals we prepare are made with that in mind.
Monday is generally a rough day. You know how it is… everyone is tired and grumpy when the kiddos get home from school, and generally VERY hungry! Easy is the keyword for dinner on this day. Something prepared beforehand that can just be popped in the oven is best. The Breakfast Casserole can be thrown together in the morning, while the eggs and milk are already out, and then it'll be just right to bake while the kids are burning off some of that negative energy on the trampoline.
Thursday is another challenging day around here. All homework and reading logs need to be turned in the next day, and there is studying to be done for quizzes to be taken on the morrow. Throwing a frozen HOMEMADE lasagna in the oven, is just the ticket for a smooth night.
By Friday night, we're ready to PAR-TAY!!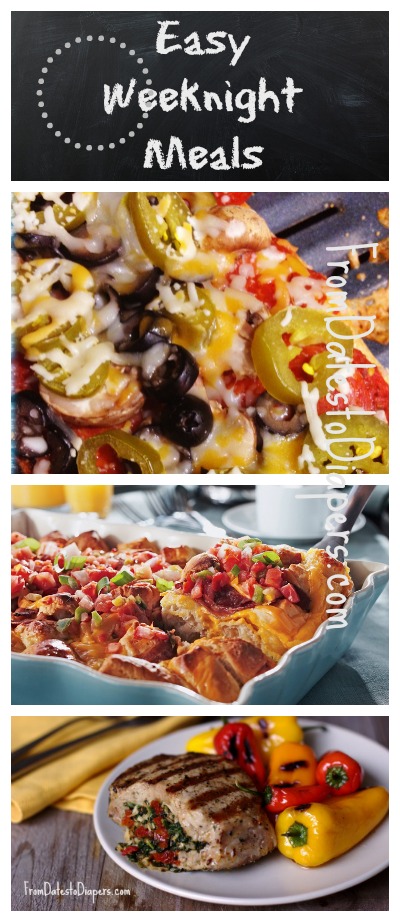 Here is a sample of how our weekday meal plan would look ::
Monday – Breakfast for Dinner
Breakfast Casserole
Tuesday – A Family Affair
Sourdough Pizza
Garden Salad
Wednesday – Comfortable and Tasty
Meatloaf
Green Bean Casserole (It's not just for the holidays!)
Mashed Potatoes
Thursday – A Taste of Italy
Lasagna with Homemade Sauce (recipe below)
Caesar Salad
Garlic Bread
Friday – Grill It Up!
Italian Inspired Pork Chops
Grilled Peppers and Asparagus
French Bread
~~~
Homemade Lasagna Sauce 
Ingredients:
2 28 oz. cans of tomato sauce
1 28 oz. can of stewed tomatoes
1 6 oz. can of tomato paste
1 pound of lean hamburger meat
2 large chopped onions
8 cloves of fresh diced garlic
2 Tbs. olive oil
4 tsp. Italian Seasoning
1 tsp. salt
This should be enough sauce for two 15 x 9 inch lasagnes.
Directions:
In a large stock pot add tomato sauce, stewed tomatoes, tomato paste, seasoning and
salt, cook on low and stir occasionally.
In a frying pan with 2 Tbs. olive oil lightly sauté the onions and garlic and then add the
meat. Cook slowly until done. Drain off any excess liquid and add meat, onions and
garlic to tomato sauce. Cook on low heat for two hours or until thickened to your liking. Add several more fresh chopped garlic cloves to the sauce before putting the lasagne
together.
As a participant in the Walmart Moms Program, I've received compensation for my time and efforts in creating this post. All thoughts and opinions are my own.