I have always been a huge fan of Dyson vacuum cleaners. We've had the opportunity to review several Dysons over the years and I am always very eager to pass them on to friends and family when a new one was shipped to me. This last one we had was broken beyond repair and we had to toss it, so I had been drooling over the latest models when I was asked to review the V6 Slim for Walmart. Of course I couldn't pass up the opportunity to give it a try and tell y'all about it!
This newest model is a Walmart exclusive and is available on Rollback for only $259, during their Labor Day promotion, now through September 12th.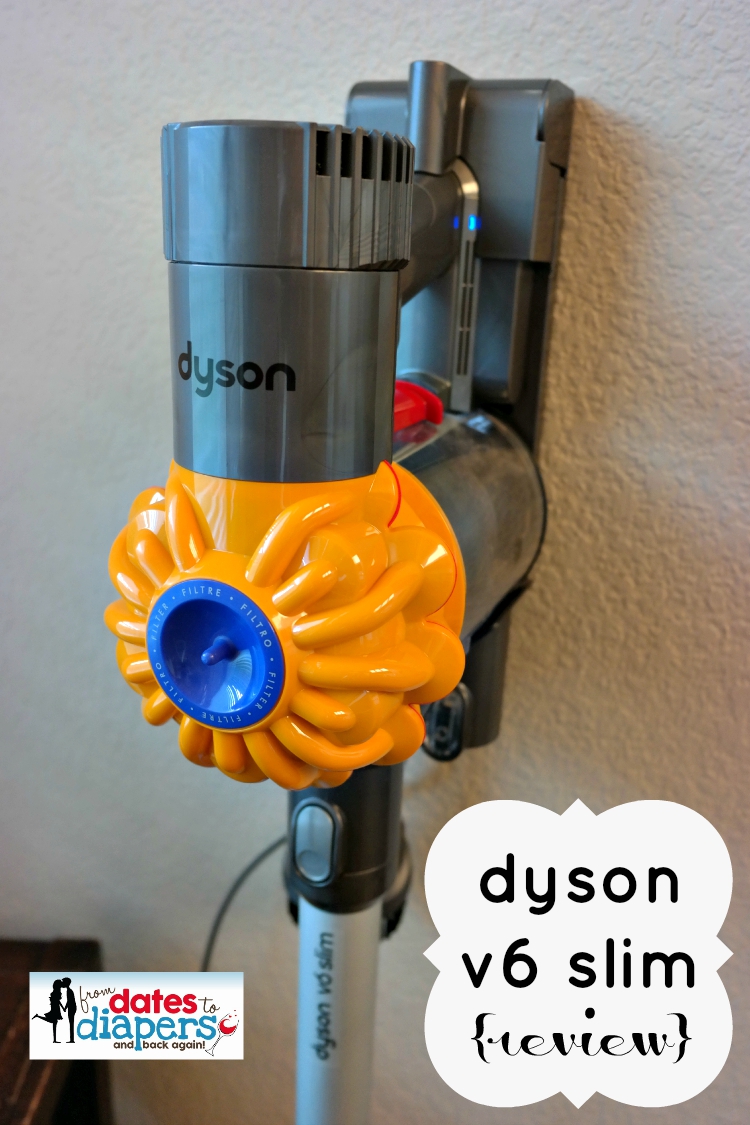 It was pretty easy to get set up in the charging dock. Once the light on the side of the unit went off, indicating it was fully charged, I was ready to use my new vacuum for the first time. Initially I was incredibly impressed. I was able to vacuum my entire hardwood covered first floor. We later tried it out on the stairs, in our vehicles, and in tight spaces throughout our house.
Here is what we love about the Dyson V6 Slim:
The V6 Slim is cordless, making it lightweight and extremely versatile. We have used it mostly on our stairs as a handheld, and in our vehicles, but can also use it on our hardwood, tile, and anywhere else in the house. The charging dock is pretty convenient and keeps the unit out of the way and charging when not in use.
Not many other brands can beat Dyson's suction power. This little model does not disappoint with it's fade-free suction. When I am not using the motorized cleaner head, the included click-fit cleaning tools make vacuuming hard to reach places, especially in our cars, pretty easy.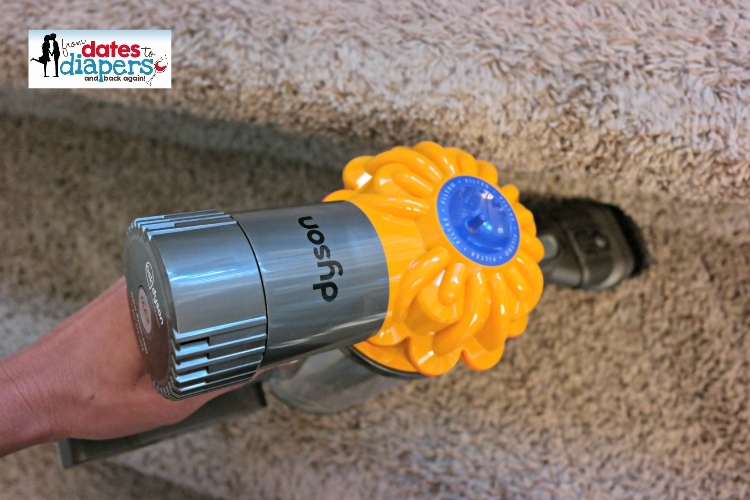 Like all Dyson vacuums, the V6 Slim comes with a 2 year warranty. If at any time the unit stops working properly, this warranty will cover parts and labor to repair it. With our luck we will probably be taking advantage of this warranty.
What we didn't love:
I do wish that a full charge lasted longer than 20 minutes as a handheld and more than 15 minutes or so on my hardwood floors. We can barely get our stairs done in that amount of time, and most certainly need a couple of charges to vacuum out the entire Yukon.
I also do not like that I have to hold the power button down while using the unit. This makes it hard for me to use the vacuum for very long, due to my carpel tunnel, and my younger kids have a hard time using it, as well. Maybe it's good that we can only vacuum with the V6 Slim for short periods of time, but it would be nice to click the power on and be able to leave it on until the charge dies.
The pros far outweigh the cons, in my opinion, making the Dyson V6 Slim a great vacuum for quick cleaning jobs.
Don't miss the Dyson V6 Slim on Rollback at Walmart if you want to give it a try!
As a participant in the Walmart Moms Program, I've received compensation for my time and efforts in creating this post. All thoughts and opinions are my own.