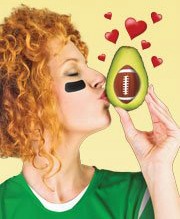 Are you ready for the big game on Sunday? If you are anything like me, you are probably heading out bright and early on Saturday morning to gather some last minute party foods. I have an idea before you head out, though… Approximately 71.5 million pounds of avocados are expected to be consumed during the Super Bowl this weekend, so don't forget the avocados!
From Chipotle Guacamole to 10-Minute Tortilla Soup (see recipe below) you will find some great tailgate party eats in the free e-Cookbook that the Chilean Avocado Importers Association (CAIA) is giving away. Like the CAIA Facebook page to download the e-Cookbook with recipes using avocados AND enter to win a $1,000 gift card!
How do YOU like your avocados?



It takes only minutes from the time you pick up the can opener and cut the avocado until this dish is ready to serve!




1 can (14 ½ ounces) chopped tomatoes with Mexican

seasonings

1 can (14 ounces) reduced sodium chicken broth

1 can (4 ounces) diced jalapeños (optional)

2 Hass Avocados from Chile

8 to 12 tortilla chips

¼ cup reduced fat Cheddar cheese or Mexican flavored cheese

Cilantro for garnish

Non-fat sour cream for garnish (optional)

.
In medium saucepan or microwaveable bowl, combine tomatoes, chicken broth and jalapeños, if used. Over medium high heat, heat to simmering or microwave on high 3 minutes. Meanwhile, rinse avocados. Cut in half and spoon out pit. Cut into slices or chunks. Spoon broth/tomato mixture into bowls and add avocado slices or chunks. Top with tortilla chips and sprinkling of cheese. Garnish with cilantro and a dollop of sour cream.
Compensated post.