There are some things about a new school year you can predict – tests, group projects, and a new teacher. But there are things about the school year that can't be predicted. Maybe this will be the year when math finally adds up, but maybe it will be the year that English essays don't come together.
Why wait to find out what this school year will bring? Avoid unpleasant surprises by developing a plan of attack, being prepared now, and not leaving anything to chance.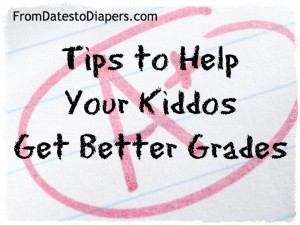 Don't wait to find out what that first report card will say—be proactive about better grades this year. Here's how:
Handle homework. Most families deal with homework struggles at one point or another. By developing a homework strategy that works for your family, you'll avoid marks lost to forgotten assignments and missed questions.
Study skills. When a test looms, tensions can run high. Developing better study skills means that students can study better, not longer. Better study skills mean knowing when a test is coming and allowing plenty of time for preparation.
Talk to teachers. Develop regular communication so that both you and your child know what to expect at this grade level. Be informed of important school dates (big projects, standardized testing) well in advance to avoid last-minute scrambles.
Break bad habits. Don't fall back into old routines and bad habits. Identify your family's bad habits, and set about changing them. Good routines at home lead to better habits at school. This includes meal and sleep times.
Ask for help.  Avoid potential struggles this year by making the decision to get professional support for children, starting now.
Oxford Learning provides supplemental education services across North America. It offers programs for young people from preschool through university, and its cognitive approach goes beyond tutoring to ignite a lifelong love of learning. Find out more at http://www.OxfordLearning.com.