Do you ever feel like technology and online social networks are taking over, robbing you of precious time with your spouse and kids? Even though being online is our livlihood, it also tends to suck the very life out of our family, on occasion. But it doesn't have to be that way, which is why we decided that our family would commit to being technology-free during every evening meal AND all day on Sundays, allowing our family to reconnect.
Of course, when I heard of the Disconnect to Reconnect movement, I jumped on board. This movement is dedicated to getting families to unplug at the table for at least one meal, once a week. Re-create a family tradition, create a new one, or simply just enjoy each other's company.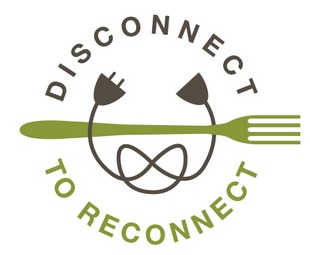 There's no social network more important or engaging than your family. And there's no better place to disconnect from devices and reconnect with each other than at the dinner table. That's why we're encouraging families to pledge to share at least one technology-free meal each week. Let's help family mealtime go viral.
Will you commit with us to unplug for at least one meal, once a week? There is a virtual pledge on PowerofFamilyMeals.com that I would like to encourage you to print and sign, as family, as a commitment to unplugging for at least one family meal a week.
Perhaps the meal you decide to dedicate to family time, free of distractions, is Sunday brunch. Or how about breakfast for dinner? To help kick start your commitment, I'd like to offer a chance to win a breakfast for dinner kit, valued at approx. $125.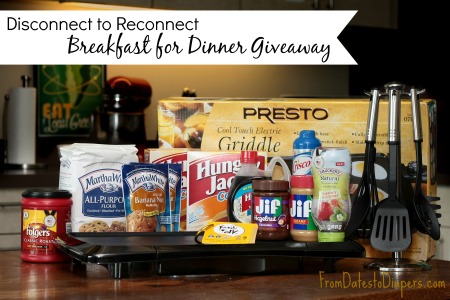 The Breakfast for Dinner giveaway includes:
Presto Jumbo Cool Touch electric griddle (1)
7-piece kitchen utensil set with stand (1)
Family Talk conversation game (1)
Smucker's Strawberry Natural Squeeze jam (1)
JIF Creamy Peanut Butter (1)
JIF Chocolate Hazelnut Spread (1)
Folger's Classic Roast (1)
Hungry Jack Breakfast Syrup (1)
Hungry Jack Complete Pancake and Waffle Mix (2)
Martha White Banana Nut Muffin Mix (2)
Crisco No-Stick Cooking Spray (1)
Martha White All-Purpose Flour (1)
Disclosure: I have been compensated for this post and giveaway. All opinions and thoughts are my own, of course.