Back on Giving Tuesday, I told y'all about CWIST – an incentive-based digital learning platform where parents and educators can share ideas, motivate kids to learn and teach valuable life lessons – and their Kids CWIST for Kids program. Did you have a chance to check it out? I'd love to hear about your experience!
Our experience was fantastic – Timmy did a fun project with Miss Julz and learned a thing or two, we were able to grant the wish of another child, and Timmy earned a reward, as well!!
First, Timmy and I chose a child whose wish we wanted to grant. He chose a 4 year old boy, just like him, who wanted games for Christmas. There are lots of children with wishes from which to choose!
I then chose a CWIST for Timmy to complete. He is learning the alphabet, so I thought this Homemade Alphabet Book would be fun for him to make with Julia. He then chose Kinetic Sand as HIS wish.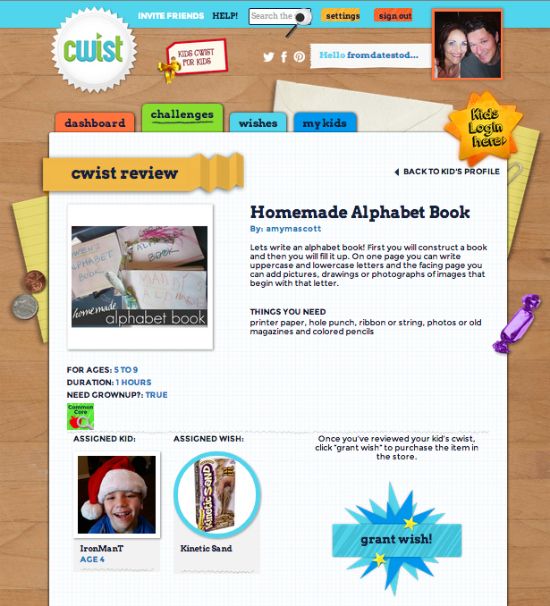 I got a Facebook notification as soon as Timmy completed his CWIST and was immediately able to purchase the item he wished for. I feel good about this incentive-based program, although I certainly won't be rewarding him with an item every day. It's a fun treat, though!

The best part about Timmy completing his CWIST is that the little boys wish for games is being granted. In fact, through the Kids CWIST for Kids charitable initiative, a gift will be donated to a child whose family can't afford holiday presents. In addition, CWIST will also be donating the first $2,000 in toys earned by children for completing CWISTs to family-supporting charities.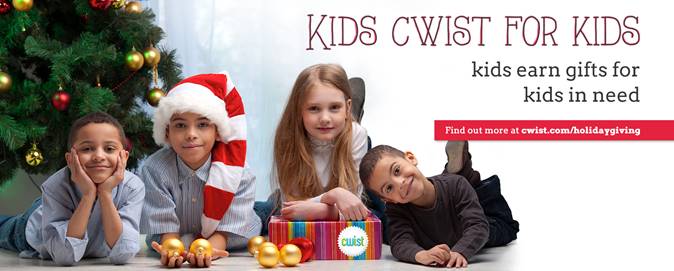 Now, that is a program I can stand behind… It's a win-win for everyone involved!
Disclosure: I have been compensated for the creation of this post. All opinions and thoughts are my own.