Ethan lost another tooth, but he decided not to tell me or Daddy. He came to us the next morning and had the following conversation with Daddy –
"The tooth fairy didn't come last night," Ethan said.
To which Daddy replied, "What do you mean?"
"Look, I lost another tooth."
"Did the Tooth Fairy forget, again?" (Yes, I've forgotten more than once to replace a lost tooth with some money, okay!)
"No," Ethan said coyly, "I didn't tell Mommy that I lost another tooth, but I proved that the Tooth Fairy isn't real!"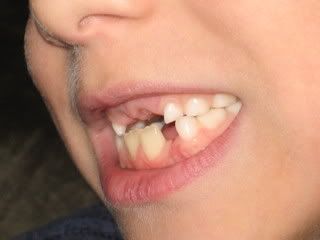 *****
Julia and I were sneaking a few bites of Rocky Road ice cream last night. Suddenly she pulled the spoon-full of ice cream out of her mouth and said, "Look, Mom, goo!" No, honey, those are marshmallows!