As you are preparing for back to school shopping, take some time to look at Walmart's Apparel Mix and Match tool and create closets for each of your kiddos. It's super fun and reminds me of the site I use to put outfits together from various places online, but with all items available at Walmart.
I browsed through some of the closets created by my fellow Walmart Moms and, because I love putting outfits together, I created a few "wish list" closets; one for the twins, one for Julia, and one for Noah and Ben – my lil' dudes!
Starting a closet is super easy. For Ben and Noah I chose age 5-6, named the closet, and I was even able to include my allotted budget for their closet.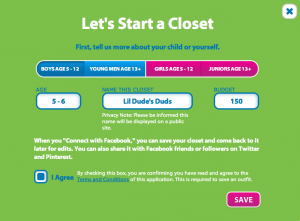 As I shopped through the categories I was happy to see my favorite brands – Hanes, Wrangler, Faded Glory, Dickies, and many more! I even added some Angry Birds and Disney items to my lil' dude's back to school closet, of course. There are so many ways to mix and match the items to create great outfits.
When putting items together to make outfits in the boys' closet, I was able to "buy" any of the items from Walmart.com with just the click of a button! If you desire to shop in store, however, you can print out a list of items, including prices, from your closet and take the list along on your next Walmart shopping trip! You can even share your closets and outfits on Facebook and Twitter.
I am a participant in the Walmart Moms program. Walmart provided me with compensation for my time and efforts on this post. Participation in this program is voluntary. As always, all opinions are 100% my own.