While growing up, my family never owned a game console. In fact, we didn't really even hang out with anyone who did. "Playing video games is such a waste of time," Mom always said, "It makes you lazy." I thought that when I had kids of my own I would steer clear of this "evil," too.
But, alas… Nintendo wooed me by gifting me with a Nintendo DS at Camp Baby, and later a Wii console. I began to spend oodles of time bowling, boxing, and obsessing over making my Mii look just like… me!
Wii Play was the first game we added to our game collection – I bought it, and a second controller, for Ray for his birthday! The bull race is my favorite, but Ray really gets in to the tank game.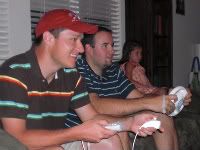 When Nintendo sent us Mario Kart, Ray and I were most excited to try it out. Now, that game is addicting… We like to have Mario Kart showdowns, and actually play with our friends until the wee hours of the morning.
See Julia's pouty I want to play look in this picture? Yeah. People think I'm joking when I say that we put our kiddos to bed early so we can play our Wii without the kids begging to play. Nope, not joking!
So, Mom, I now am a video game junkie. But, I won't play just any video games…. They have to be of the Wii kind!
Oh, and in case you were wondering – Yes, we do let the kiddos play the Wii… sometimes!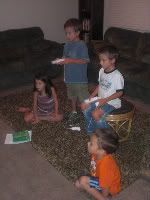 \