So, we made some cookies, the boys and I. You have to try these Cinna-Spin Cookies. They are a breeze to mix up, using Betty Crocker's Sugar Cookie Mix and a few special ingredients, but they are a bit tedious to make. I can assure you they are well worth the time, especially if it's your kiddos doing all of the work!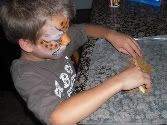 Zach rolling out the cookies and dipping them in cinnamon.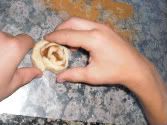 Just like a cinnamon roll!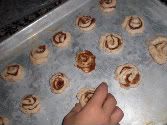 What a good job!
Ben couldn't resist a little taste (

okay,

I

couldn't resist those eyes!

)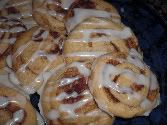 Mmmm Mmm!
You know you want to try them… Go grab the recipe and let me know how you like 'em!