Just before Christmas, while in New York, we visited America's First Pizzeria and this is what Julia does… Classic!
**Be sure to read the UPDATE below**
I was so incredibly excited yesterday to receive word that I am one of three finalists in the BornFree Time-Out in New York City Sweepstakes! Can you picture a big, pregnant me jumping up and down with excitement? You bet I am!
Just look at the fabulous prize package that I could win::
**The Ultimate Indulgence Package at the Elizabeth Arden Red Door Salon & Spa, including:
Elizabeth Arden Facial
Desert Hot Stone Massage
Olive Oil Manicure
Olive Oil Pedicure
Shampoo, Blow Dry, & Finish
Makeup Refresher
Spa Lunch
**Dinner for me and a friend at The Russian Tea Room ($250) http://www.russiantearoomnyc.com
**A $1,000 NYC Shopping Spree!!
**BornFree products for Baby
Now, I know that when I ask you to do something for me I usually have something great to give you in return, but this time I'm just asking for a favor. A HUGE favor. Can I count on your vote? Pretty please?
Here's how to vote::

"Like" the BornFree page on Facebook, then scroll down and "like" the note with my entry! (I'm Finalist #3: Christine Young)
Normally I don't like to ask for favors of this kind, but I'm certainly not above begging for votes to win this one!! I'll try to figure out a way to thank you all, but please know that I am beyond grateful for your vote!
**UPDATE** I was just informed that BornFree has upped the anty for the three finalists! For every 50 votes (aka "likes" on my entry) I will receive a special prize that I am choosing to pass on to YOU! Prizes may include BornFree trainer cups and bottles (to be passed out at BlogHer), Dapple Baby products, and even a $50 BornFree gift certificate, depending on the total number of votes I receive, of course. I am so excited to be able to give back to those of you who vote for me! Recipients of these special goodies will be chosen from those who have "liked" my entry.
Thanks to those of you who asked how I am, or where I've been… It's nice to know I'm missed when I go MIA for a few days! Aside from being to scared to death to change, touch, or move anything here at From Dates to Diapers new home, I was also away from my real-life home for a bit…
I was in New York City, with a bunch of my favorite gals, for THREE DAYS!! Talk about some good times! We ate, talked, walked, talked, cried, laughed, talked, shared, rarely slept, had a few drinks, cried, and talked some more. Let me tell you, you bring 12 strong, opinionated, beautiful women together and they are bound to make some noise!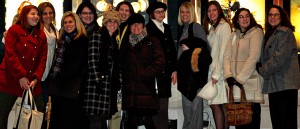 Lindsay, Me, Audrey, Arrianne, Colleen, Tara, Jessica, Katja, Alyssa, Erika, Nikki, Lori
I'm glad to be home with Ray and my kiddos, but boy, do I miss you girls!