Do y'all remember when I decided to buy a digital SLR camera and learn how to take "beautiful photos"? Well, it was then that I knew I wanted to capture life – my children's lives.
Well, I bought my camera – a Canon Rebel XSi – and have been taking pictures, but I don't really know how to use it. Sure, I've been snapping some pretty good shots, if I do say so myself, but I have never ventured beyond the auto settings. Sad, huh?
So, how excited do you think I was when I discovered that Jen – of Jen Stewart Photography – and her husband, Chris, were going to be teaching a photography workshop? It gets even better. This workshop is especially for moms, to teach us how to capture the lives of our kids in photos!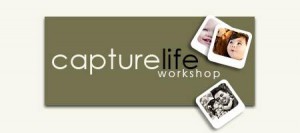 We want to empower you to take the best photos you can of your families, and to have confidence that you can record those spontaneous memories beautifully!
You can find all of the details about this fantastic workshop, taking place in Sacramento on January 23rd, HERE. Do you want to hear something exciting? You can save $100 off the price of your ticket if you register before January 11th!
Let me know if you plan to join me, my local friends, so I can look forward to seeing you there! (I have been given a ticket to attend in exchange for creating some buzz, but even if I wasn't I'd so be there!)
What are some of YOUR best tips for capturing your kiddos in photos?