Last month Ray and I told you about the California Wine Club. Did you have a chance to hear how much we enjoyed our first shipment?
Well, to recap – we loved the wine and the ease in which we came by it. As in, it was literally delivered to our doorstep, making it a great gift idea for the upcoming holidays. In fact, my parents would really enjoy a gift membership… Hmmm.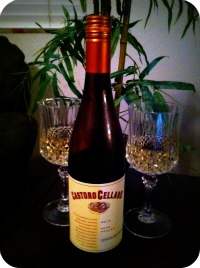 Anyway, we received our second shipment not too long ago, and were just as pleasantly surprised. Not only did the bottles selected for us far surpass our expectations, but the information that accompanied the wine was very fascinating. It is so neat to see the photos of the vineyards and wineries in the newsletter, but the info about the wine itself and the winery from which it came makes the wine seem so much better, in some crazy way.
Ray and I are excited to try the California Wine Club's holiday wines this month. Of course, we will be sure to share our thoughts with you, but for now how about a chance to win some wine?
Leave me a comment telling me about your favorite wine and you can win a one month shipment from The California Wine Club! To earn extra entries you can "like" The California Wine Club and The Boring Wine Guy on Facebook and/or follow @cawineclub and @boringwineguy on Twitter. Just leave a separate comment for each. (Giveaway open to all readers over 21, residing in the any of the states in the U.S. with the exception of Utah.)
Ooh, and guess what? All of you can receive a special 10% discount when purchasing gifts from The California Wine Club, just in time for the Holidays! Be sure to use promo code datestodiapers when ordering.
If you would like to try out The California Wine Club, you can use the same promo code and not only will they take off 10% off your first month, but they will also send you an extra bottle of wine in your first month shipment as a special joining offer for being one of our friends. There is no obligation to stay past the first month, so you've got nothing to lose and only quality wine to gain!