The evening started normal enough: we had dinner and then played Uno, my brother and his wife came over to visit, and as we were chatting in the living room, Julia ran in shouting…
"Dad, come quick, Noah has something sharp!"
"What does he have?" I asked as I jumped up, alarmed.
"Just come quick. He's upstairs!"
So there I was, running up the stairs with all sorts of thoughts running through my head.  Did he have a kitchen knife?   Did he get into my razors?   Did he cut himself already?
As I neared the top of the stairs, Noah emerged.   He didn't have any cuts and he wasn't crying.  He was…
Smiling.
In his hand, he held my beard and mustache trimmer and a section of his hair was missing!  It looked sort of like a reverse Mohawk that was the same size as the trimmer's blade.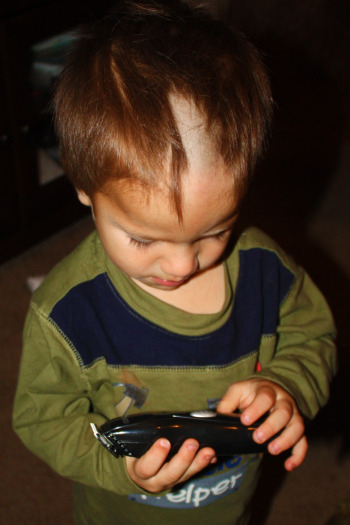 I nearly fell down laughing, I thought it was so funny.  As I carried him downstairs into the living room, Christine was shocked, not thinking it nearly as funny as I.

We ended up shaving most of his hair off to make it look more "normal," but it'll be a few weeks before the evidence grows out.