I remember my Grandmother telling me before my wedding, and just after she and my Grandfather celebrated their 50th wedding anniversary, that I did not yet know true love. She explained that making it through hard times together would intensify my love for Ray, but ultimately loving him would be a daily choice. I couldn't imagine then that I would ever not have loving feelings towards Ray, or even that I could love him any more than I already did, but I can say with all certainty that my Grandma was right.
Our journey, mine and Ray's, has not always been easy. There have been many bumps in the road, huge potholes, and quite a few hills. We certainly didn't expect marriage to be easy, and we knew it would take work to maintain a healthy relationship, but we didn't quite expect to be traveling down the road we have traveled thus far.
Thankfully we have had many great people, like my Grandmother, share priceless nuggets of wisdom over the years. These gems are what got us through the the last 15 years. While I know we have much to learn, I would like to share what we have learned thus far, mostly due to trial and error.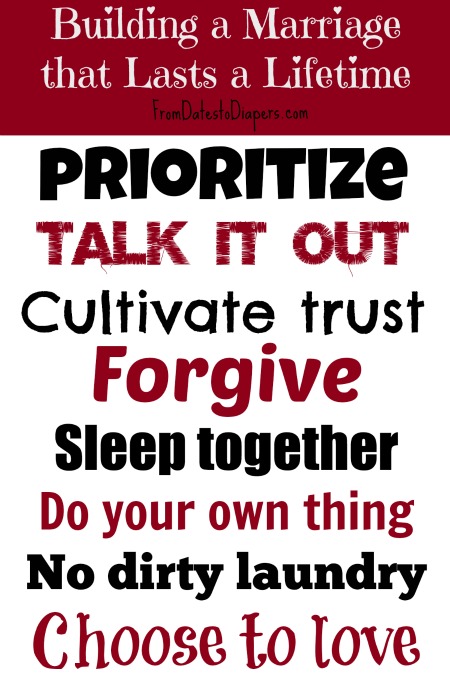 Make your spouse a priority
With seven kids, and our own businesses, it can be easy to forget about making each other a priority. As soon as we start to feel disconnected, Ray and I make an extra effort to re-establish our bond. At times this means simply a quick lunch date, and at other times we feel the need to go away alone for an entire weekend. For us, praying and being in God's Word does wonders for our connection. With Christ as our center, we have more of a desire to put each other first.
Talk it out

Don't let issues fester and build up until you explode, as I am so often tempted to do. It's important to talk about what you are feeling, when you have these feelings. Regular and consistent communication helps prevent misconceptions and insures you are both on the same page.
Cultivate trust
You simply can not have a healthy marriage without trust. The trust Ray and I have for each other has not always been strong. There have been times when I didn't think I could trust him, and times that he broke the trust I did place in him. Ultimately, Ray is my best friend and I am there for him through thick and thin, as I know he is for me. I've failed him many times, but the assurance that he has the same trust in me is very important to me.
Forgive
You will mess up. You will hurt and disappoint each other. Admitting when you are wrong and choosing forgiveness will strengthen the bond you have as a married couple and increase your trust in one another.
Always sleep together
I have heard many people claim they never go to bed angry with their spouse, but  in our 15 years of marriage I can honestly say that it hasn't always been possible. And, for us, that's been okay. There have been issues that we've had to deal with and heal from that require more time than what would have been allowed in one day. That said, I only remember one occasion in which we did not sleep in the same bed (sans when one of us was traveling). There have certainly been plenty of nights when there was no touching, or even talking, and we slept the entire night with our backs to each other (or didn't even sleep at all). No matter how I felt about the situation with which we were dealing, however, I knew my husband was there with me and wasn't going anywhere. That was a great comfort, even in the midst of trial.
Do your own thing
I enjoy my husband's company and often choose to spend time with him in a way I may not find to be the most enjoyable – like watching a soccer game on tv…ahem. While it's key to cultivate similar interests and hobbies in a marriage, I believe it's equally important to remember that it's more than okay to have your own interests. Ray is great about encouraging me to pursue what I enjoy even if it doesn't include him, and I am so grateful for that!
Don't air your dirty laundry
In the age of social media and over sharing, this one is tough. Many Facebook updates and blog posts have been typed out in frustration, only to be deleted after realizing that airing my dirty laundry would cause more damage than good. Instead of going public with our problems, we have been pretty good about keeping them between us. If we need counsel or prayer, we will talk to a trusted friend instead of turning to our social channels.
Choose to love
To make a marriage last a lifetime, remember that feelings ebb and flow. When those warm and fuzzy feelings of lust and desire fade, you must choose to love. Just as my Grandmother advised me, I choose every day to love Ray, even when I don't really like him.
I could go on and on, but I'd love to hear from you… What words of wisdom do YOU have to add?