This morning, over breakfast, I had the chance to chat with Sandra Lee about Pillsbury Rolls and Sunday morning family rituals.
What?! You don't know who Sandra Lee is? That's okay, neither did I before last week, but I'm sure glad I had a chance to "meet" her. Let me tell you a bit about her…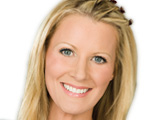 Sandra is the author of 20 books, with a new book to be released this Fall; she has two highly rated shows on the Food Network, one of which is the multi-Emmy-nominated Semi-Homemade Cooking and the other is Sandra's Money Saving Meals; Sandra is bubbly, down-to-earth and all about making the preparing of food less time consuming and affordable. Sandra Lee's trademark 70/30 Semi-Homemade philosophy combines 70% ready-made products with 30% fresh, giving moms, like moi, the confidence to create food that looks and tastes great from scratch.
Here's what we talked about this morning::
Tips and Tricks for a Perfect Sunday Brunch
Tablescapes spruce up any table, taking it from bland to beautiful!
Place food on pedestals by inverting a glass and placing a plate or platter on top.
Sandra is all about saving time and energy by using smart, but effective shortcuts.
Recipes
Sandra gave us step-by-step instructions on creating some amazing recipes. The two that sound so yummy I may have to run to the store this morning and pick up the ingredients are::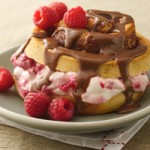 Chocolate Raspberry Cream Cinnamon Rolls Sandra says these are "decadently divine," and I would have to say that they certainly look so! They would be extra special for a breakfast in bed, or a more lavish breakfast idea for Mother's Day (hint, hint, dads!)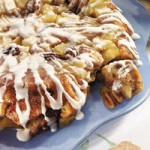 Upside-Down Cinnamon Apple Coffee Cake This delicious sticky bun coffee cake would be perfect for any brunch, but could also make a beautiful dessert.
Now, you know about my recent obsession with food, so I'd love to hear about any ideas you may have to incorporate the Pillsbury cinnamon roll into a creation of your own. Maybe we'll even try it, so I can post it here!
I could certainly use some tips on becoming a more creative cook, so I was happy to get some advice from Sandra when one of the other bloggers asked about this very thing. Sandra says that using what you have forces you to be creative. I love that she believes that "recipes are just blueprints for what's possible." I guess I just need to let my imagination (and palette) run wild!
We also talked about spending time together as a family. While she and her family spend quality time in the kitchen, preparing fabulous dishes, Sandra says, "it's not so much about what you're doing; it's about spending the time together." I couldn't agree more!
Be on the lookout this summer for new sweet rolls from Pillsbury.
Oh, and and then this fall Sandra is relaunching Semi-Homemade and is moving from a 70/30 philosophy to a 30/70 philosophy — 30% store bought to 70% fresh!
My "conversation" with Sandra was made possible by a webinar, sponsored by Pillsbury.