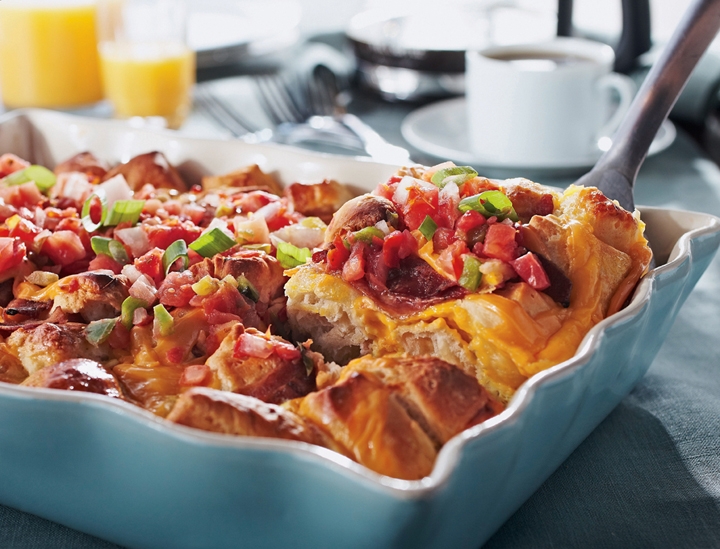 We are big fans of breakfast around here any time of the year, but even more so around the Holidays while we're enjoying the lazy mornings of winter break. There is just something abut sizzling bacon and the aroma of fresh brewed coffee that beckons everyone into the kitchen. This delicious breakfast casserole is sure to have everyone asking "what's for breakfast?" If you can keep them away that long, that is!

Last month, while I and some of my fellow Walmart Moms were in Arkansas, previewing all things Holiday at Walmart, I had a chance to try this easy-to-make, delicious casserole.

.


As you can see, this casserole is super easy to make. It's even more fun when you get the kiddos in the kitchen with you to help. I can all but guarantee that they will be begging for a piece, especially if they have a hand in layering the tasty ingredients!

Breakfast Casserole Recipe

Prep time:

Cook time:

Total time:

Serves: 8

Ingredients
1 can (16.3 oz.) Pillsbury® Grands!® Biscuits
1 pkg. (8 oz.) Oscar Mayer® Fully Cooked Bacon
1 pkg. (8 oz.) Kraft® Velveeta Shreds
8 eggs
¼ cup Daisy® Sour Cream
Salt & pepper
Chopped green onion (optional)
Pico de gallo (optional)
Instructions
Preheat oven to 350° F.
Lightly spray a 9″x13″ pan with cooking spray.
Cut biscuits into 4 pieces and place at bottom of pan.
Layer cooked bacon and Kraft® Velveeta Shreds over biscuits.
In a bowl, whisk together eggs, sour cream, salt & pepper.
Pour over biscuits.
Bake for 30-40 minutes or until golden brown.
Garnish with chopped green onions and pico de gallo.
Allow to cool for 5-10 minutes before serving.
.
If you love this recipe, you may also want to check out these other easy recipes from the Holiday Entertaining Guide prepared by my fellow Walmart moms:
Crisp Bacon and Tomato Triangles
Disclosure: I am a participant in the Walmart Moms program. Walmart has provided me with compensation for the time and effort spent creating this post. However, my participation in this program is voluntary and my opinions are my own — always have been, always will be.