I have many fond memories of this time of the year, growing up…. With so many family gatherings and school group activities, we were much busier than usual. Because of the hustle and bustle, it seemed we took many days off of school between Thanksgiving and Christmas. Sure, we were still learning, but they were days spent baking, visiting family and friends, shopping and preparing for these special days of celebration.
This is just a fact I now have to embrace as I struggle with trying to get everything done this month – December is a busy month. And just as my Mom made up for our lack of full bookwork-laden school days, I am trying to make up for them with my kids, guilt-free.
I'm happy to say that I've been introduced to some great resources for helping to keep my children's minds active when I may be busy addressing Christmas cards or we're waiting for the cookies to bake. Instead of making myself feel guilty for the many days in December when the book learning gets pushed aside, I set my kids (yes, even the younger ones) up at the computer, or with some great books, when we're not busy with Christmas festivities.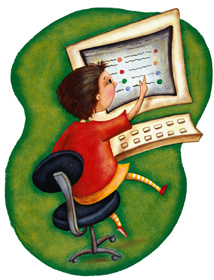 Here are some great sites and book series in my arsenal for such days ::
DreamBox.com :: DreamBox Learning K-2 Math is a solid math curriculum wrapped in fun web-based adventures that my kids love. With individually-tailored instructions, my kiddos are learning without even realizing it! Sign your kiddos up for a free trial now and you'll see what I mean!
OneMoreStory.com :: One More Story is an online library of some fun classic and contemporary children's literature. The site doesn't replace "real" books, but it is perfect for times when I'm busy. The great thing about One More Story is that it can be utilized by both pre-readers and early readers, which means it's perfect for most of my kiddos. Josh and Ben can choose a book, see the illustrations and have the book read to them, while the I Can Read It mode allows Julia to mute the sound, but lets her click on an unfamiliar word to hear that word spoken by the narrator. This site provides a great way for my kiddos to independently explore literature.
BigIQKids.com :: My oldest three kiddos are big fans of Big IQ Kids, as am I. What I like about it is that it supplements our regular lessons perfectly. We happen to be learning about the geography of the United States and at Time 4 Learning they can brush up on their knowledge of the states. In addition to U.S. Geography, Math, and Vocabulary, I can add their spelling words (or use the words already included) for extra practice, so they're ready for their test at the end of the week. They get in some study time and I get time to get some presents wrapped – Now that's a win-win!
First Encyclopedia of the Human Body :: The human body is most certainly a fascinating study, and one in which all of my children are quite captivated by. The simple text, stunning photographs, detailed illustrations and fun activities are perfect for my kiddos to explore all on their own, although I've also used this book as part of our formal lessons, as well. My kiddos never tire of learning about the wonders of the human body, but the First Encyclopedia of the Human Body certainly adds to their enjoyment.
Junior's Adventures Books, by Dave Ramsey :: These books are so much fun and all of my kids enjoy them, especially Josh. Just yesterday I found him all snuggled up on the couch, with one book in his hands and the rest of the set scattered around him… so cute! Anyway, my older three have learned a few valuable lessons from Junior's Adventures; lessons they have actually begun to put in to practice. Lessons about saving money, giving to others, and budgeting – all on a level they understand fully.
Are there any sites or books that you think I should check out? What do you do to keep your kiddos' brains busy while you are?
Benefited Review