I don't truly believe that we are in a recession in the literal sense. However, the last several weeks seemed to bring so much heart ache to so many in the blogosphere. My own set of problems last month kept me from blogging, twittering, and conversing more than seemed necessary, but they all seemed miniscule compared to what so many other were going through – illnesses, money-sucking problems, job loss, loss of a child, loss of a parent… the list just goes on.
I know… I can't forget about the good that happened last month. It just seemed that every where I turned some thing happened warranting a virtual hug of sympathy to be sent through this vast world wide web.Because of all of this, Kristen over at Motherhood Uncensored, came up with a brilliant idea called Blog the Recession, in hopes that August would be a better month for us all.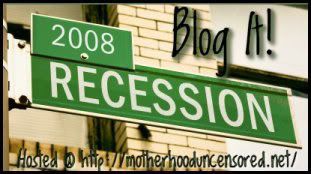 The premise is simple. If you read blogs, then for the month of August, make the "pledge" to click through from your feed reader. No obligation to leave a hilarious comment or send a long stalkerish email (although both, within reason, are always lovely). Just click through to the blog (not on ads unless you are so led) and if you're feeling generous, click around to their older posts.

Just those extra page views can make a big difference for bloggers who could really use the help…
So, I have made the commitment to visit many of my bloggy buddies whom I generally read through my reader. This might be a good time to tell you that you can subscribe to From Dates to Diapers in a reader. I know you don't want to miss a single thing around here, right?
Oh, and Kristen has some really cool stuff you can win if you make the pledge and start spreading the love by posting about her event. You can win a Graco carseat, a $50 Amazon gift card and much more!

Will you make a pledge to Blog the Recession with me?

I am warning you now to be prepared when you visit Kristen – She calls her blog Motherhood Uncensored for a reason, so make sure your five-year olds aren't reading over your shoulder!