When I first started hearing buzz about the surprises Christine had planned for the "Blissdom Babies", I couldn't help but be excited! While I don't attend conferences for the swag — and you'll never find me pushing or shoving to get extra stuff — it's always fun to have the opportunity to try products that you don't normally buy. And as a blogger, it's reassuring to know that companies value our voices and want to get their products in front of us.
As if the teasers Christine threw out there when she asked for our babies' ages and genders and when she mentioned Hershey's chocolate weren't enough, I could hardly contain my excitement when I saw the tweet from her asking if we would be interested in test driving a stroller and possibly winning one to take home!
We have more than a couple cheap umbrella strollers and a huge double jogging stroller that no longer fits in our car, but there are plenty of times that I wish we had a nice stroller for family outings or vacations. However, buying a luxury stroller just hasn't been in the budget, even if I have spent time drooling over them.
We arrived at Blissdom ready to test drive one of the five strollers that Christine arranged for us, including the Quinny Buzz 3 with the Dreami bassinet insert. However, my sweet girl is easily overwhelmed, and 500 women gathering in one place can send even the calmest person into overload, so it was no surprise that she spent much of the conference crying or hiding out in our room with my sister. Because there were so many babies who looked content riding in their strollers while their mommas networked and attended sessions, I just didn't feel right swiping one from any of them in order to test drive it.
Fortunately, as the conference came to a close, one of the strollers was free, and Christine gave us a chance to try it out. You should have seen my girl riding around like the queen of the conference, happy as could be to ride in the stroller thanks to the innovative rear-facing option that let her watch us while she rode. She played with her new Baby Einstein's book, cooed and smiled as we walked the halls.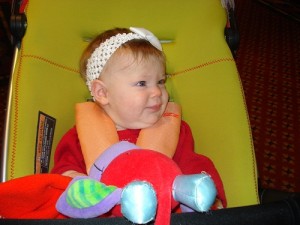 Because we were stuck in Nashville for an extra day due to the blizzard that hit the Northeast, I was even more hopeful that we would win one of the beautiful strollers. After 5 months with a fussy baby, I was instantly in love with any piece of baby gear that could keep her as happy as the Quinny Buzz 3 did!
I tweeted, commented, took pictures and generally shared my enthusiasm for the stroller in every way possible to get as many entries in the giveaway as I could, but then I did my best to forget about it because I knew I was going to be so disappointed when I didn't win. At 10:30 p.m. on Saturday night, I headed back down to take Christine the stroller back, and when I was met with the news that we had won it, I might have squealed. Many apologies to the other guests in the Magnolia wing of the hotel!
There are so many things that make this stroller as wonderful it is. It's versatile, holding the Dreami bassinet for infants or accomodating the extra large seat in a forward- or rear-facing position for babies, toddlers and kids of all ages. The seat reclines and has an adjustable foot rest as well. And the whole thing folds up easily and unfolds with a unique hydraulic system. Most importantly, it is incredibly easy to push, gliding along smoothly and turning easily.
My sister, Sidney and I spent a lazy day at the hotel on Sunday, enjoying our extra day even though we were anxious to get home, and we used the Buzz 3 all day. When we bundled her up in the stroller and walked to the mall, she stayed happy as we shopped, even sleeping in it for part of the time.
As the mother of four little girls, I've come to realize that there are certain pieces of baby gear that are worth the extra cost. I wish I had invested in a nice stroller with my first because I have no doubt it would have gotten enough use to make the price worth it!
Thank you so much, Quinny, for offering us the opportunity to use and win these strollers, thank you to ForBabyGifts, Johnson's Baby, and Baby Einstein for the great goody bags, and a huge thank you to Christine as well, for all of the time and effort she invested in making those of us with babies feel loved and welcomed at BlissDom!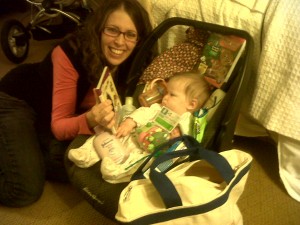 Mandi Ehman is a work-at-home mom to four spunky little girls. She believes that organizing only lasts if you do it your way – to fit your needs, your preferences and your lifestyle – and she shares organizing and time management tips at Organizing Your Way.