My kiddos love to listen to stories. Billy Brown Goes Hiking is one of their new favorite audio adventure… We listen to it in the car, at lunch time, and even at bed time!
Billy Brown is a big, friendly, talking bear who lives in Johnstown. Created by Giddio, these audio adventures are different from audio books, or storytelling. They are produced with full cast voice acting, music and sound effects that captivate young children (and their parents), and have won awards. I was impressed by the quality and professional sound, and the fact that all five of my older children were completely enthralled by the tale of Billy Brown.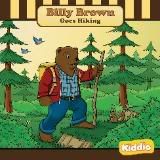 In Billy Brown Goes Hiking he and his best friend, little Emma, have plans for a peaceful hike through the woods for a picnic. Their tranquil adventure is interrupted when they hear a call for help from a family stuck in the rapids! Billy must rescue a mom, dad, baby and little boy from the churning waters, and get everyone back to shore- and back to the picnic! But can he do it? You'll just have to listen to the story to find out!!
I'm sure your kiddos will love this captivating story, as mine have. Right now you can save $5 by ordering the Billy Brown Package, which includes three episodes, with free shipping! If you would like to sample the Giddio audio adventures, "Billy Brown and the Mystery Package" is being offered as a free download.
Visit Giddio today and gift your favorite kiddos with a new adventure!!