This week in our "how do you do it?" series, my friends and I are talking about meals – who prepares the meals, what we cook, clean-up, and more!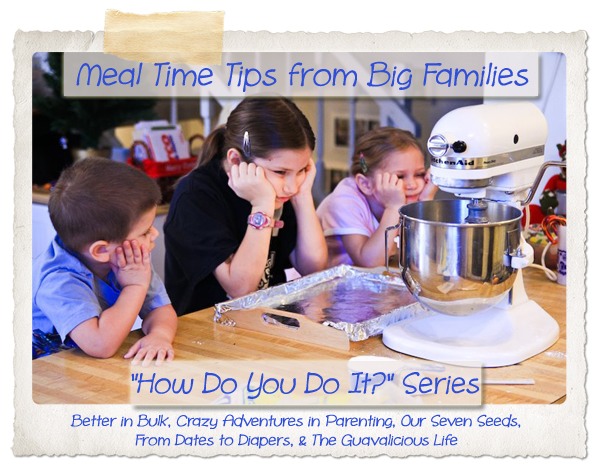 "How do you do it?" Series hosted by Lolli from Better in Bulk, Lisa from Crazy Adventures in Parenting, Christine from From Dates to Diapers, Kadi from Our Seven Seeds, and Kate from The Guavalicious Life. Join us each week for more tips from moms of big families!
Now, I first must remind you that, while I love to bake yummy treats, I do not like to cook. I never really have. My mom and dad are both great cooks, and I know how to cook a great many things – from homemade lasagna and manicotti to vegetable soup – but it's a task that has always brought me much anxiety, regardless of the fact that Ray and I totally dig good food.
I suppose some of my anxiety comes more from a lack of organization and meal planning than anything. I've never been a list person, so planning a menu and making a grocery list only doesn't happen as often as it should. I definitely find that when I plan better, all of mealtime goes more smoothly from start to finish.
But, you know as well as I do that, no matter how many children you have, the dinner hour is the most stressful, causing most of my anxiety. Baby starts to cry and needs attention, the older kids need help with homework, and everybody is hungry. (We won't even talk about evening practices, but will certainly touch on that at another time.)
My real dislike for this task, however, is due to the fact that I always end up burning some part of the meal. Always. It's either the bread or the rice, but it's always something. When I'm in the kitchen, the kids are all at ready with the broom to "sweep the smoke away" from the detector. I wish I were joking.
All that said, my biggest secret for mealtime – dinner, more specifically – is to include everyone in the process. Here is what works best to make mealtime a happy success ::
1. Menu Planning – I will sit down and plan out our menu based on what everyone enjoys eating. I will often ask for suggestions and make sure that the favorites are made often.
2. List Making – A list will then be made based on the meals we've decided to prepare.
3. Shopping – We generally shop at a few different stores. Costco is where we purchase most of our bulk items – chicken, frozen foods, canned goods, etc. We even purchase the majority of our fruit and vegetables from Costco since we go through it all so quickly. Walmart and Fresh & Easy are both visited for convenience, sometimes a couple of times a week.
4. Prepping and Cooking – Ray is almost always in the kitchen, whether he is preparing dinner by himself, or helping me relax while I prepare with conversation and a glass of wine. Josh also loves to cook, so he is often found either observing or helping to make dinner. The kids all take turns setting the table.
5. Noshing – It is only due to travel (or our date nights) that we do not sit down together for dinner. We all eat at the same time – after mom and dad are seated and we've thanked the Lord for our food. We find this to be a great time to work on manners, talk about our day, and plan our evening.
6. Cleaning Up – The kitchen is the only part of our house that is not included in our chore rotation. Although we do assign certain after dinner tasks to certain kids, I am always helping and guiding. Even if it means the dishes are done the next morning.
For those many nights when I don't have a plan, Ray will jump to the rescue. Unlike me, Ray actually enjoys cooking. He says it's relaxing. Since he enjoys it, he likes to experiment with different seasonings and spices, but always finds a way to include olive oil. But, his favorite? Fresh & Easy's pre-made meals.
That's how we do it. How do YOU do it?