"How do you not go broke with all those kids?"
Is that a question you hear often? My fellow moms of many and I have decided to tackle this very topic in the next installment of our series on big families. Why? Because WE hear this question almost daily!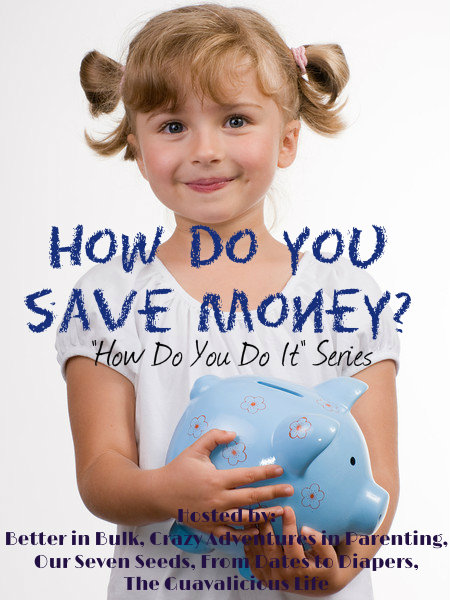 "How do you do it?" Series hosted by Lolli from Better in Bulk, Lisa from Crazy Adventures in Parenting, Christine from From Dates to Diapers, Kadi from Our Seven Seeds, and Kate from The Guavalicious Life.
Join us each week for more tips from moms of big families!
First of all, let me start by saying that it was very difficult for us financially for many years. We lived paycheck to paycheck and rarely had enough to cover our monthly bills, let alone have anything left to play with. There were many things we did to save money on everything – bills, food, clothing, etc – and God provided in ways we never thought possible. We always had exactly what we needed.
We have a bit of a cushion now, and are able to afford to do many of the things we weren't able to afford before. We do, however, try to save money on everything we purchase, so we have more money to do the things we enjoy doing, eat the food we love, and spend more fun time together as a family.
Here's how ::
Cooking at Home vs Eating Out
We have two refrigerators and we buy most of our food in bulk at Costco. Stocking up on most items helps cut the cost of things like ground beef, cheese, milk, eggs, and juice. Cutting down on snacks, which trims the grocery budget considerably, and instead keep healthier snacks on hand at all times- cheese sticks, yogurt, veggies and fruit.
We generally try to eat in as a family as much as is possible. When we do eat out, we search for deals and coupons, and hit restaurants with a "kids eat free" night. Claim Jumpers is a great place to go as a family, especially during happy hour. They have a huge menu, practically feed the babies before the adults have ordered, and even the kids meals are big enough to share. Add in the happy hour deals when you sit in the "saloon" and you're set for an inexpensive dinner out!
Coupons
Groupon, LivingSocial, and DealChicken are the first place we check when when looking for price breaks on everything from wine to family outings. We used to clip coupons for food, but found it to be a bigger hassle than it was worth. Not to mention finding the time to cut coupons was just not happening. Instead, we like to shop the sales.
Credit and Store Club Cards
We do not use credit on a daily basis, however we do have an Old Navy Visa card that saves us quite a bit on clothes for the whole family, with cash back vouchers to use in store. We are pretty good about paying this card off at the end of each month, so we avoid interest charges.
We also have a Target Red Card that pulls directly from our checking account, with no fees. The Target Red Card saves us 5% on everything we purchase with it.
There are plenty of supermarkets that have a special club card, so make sure you get one. We have  club cards from Safeway, Fresh & Easy, CVS, and more. These cards help you save money on daily purchases, give you cash rewards, and some even give a percentage or your purchase total to local charities and schools.
Travel
Our family loves to travel. We like to visit the sea, the mountains, and we love spending time at amusement parks. Of course, most of our vacations take place within driving distance, with Lake Tahoe, San Diego and Los Angeles among our favorite destinations.
Years ago, when we were young, stupid, and broke, Ray and I purchased a time share. While it made for many stressful months of not knowing how we'd pay for it, the great thing now is that it is paid for and we can use it as much as we want, whenever we want. Pair the time-share with travel during off-season times and we're able to have some pretty fun and inexpensive vacations.
My blogging venture has also provided me with many great travel opportunities. I have been to Aulani in Hawaii, DisneyWorld in Florida, and many other beautiful places, but I haven't wanted to travel alone… Ray and I enjoy making some of my business trips mini family vacations. Because we could definitely not afford to take everyone along on every trip, we will have a couple of our kids accompany us on some of my trips. We find some pretty good deals on airfare, car rentals, and extra nights on Hotwire, Priceline, and Kayak.
Date Nights
As I've mentioned before, Ray and I make time for regular date nights. We purchase discounted movie tickets and restaurant cards at Costco and combine these cards with other offers. Like, happy hour at your favorite restaurants, for instances. BJ's  has 1/2 off mini pizzas every evening!
How do you save on the things you need, so you can purchase and do the things you love?