Whether it comes from a box or it's Grandma's special recipe, the stuffing is an essential part of every Thanksgiving feast.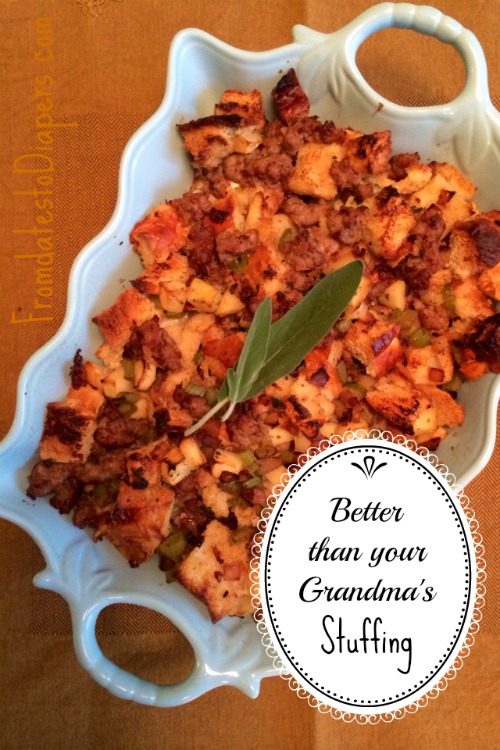 I must admit, I often default to (and really like) the stuffing that comes from a box. I always thought homemade stuffing seemed like quite the chore to prepare, but I was determined to find a delicious stuffing that didn't require too many ingredients OR too much time in the kitchen.
Well, find it I did, and boy is it good!! I had most of the ingredients already in my pantry so, after a quick trip to the Walmart bakery for the freshest bread in town, I was ready to give this recipe a go!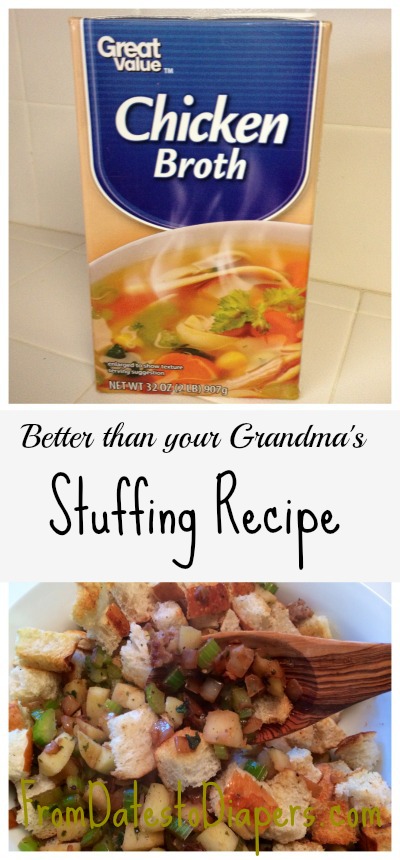 Apple, Sausage, and Sage Stuffing
1 loaf Italian bread cut into 1 inch cubes

6 oz mild Italian sausage

1 1/2 cups chopped onion (I cheated and bought pre-cut)

1 cup chopped celery (pre-cut again!)

2 Granny Smith apples, chopped

6 cloves of garlic, minced

3 Tbs fresh sage, chopped

1 1/4 cups chicken stock

1/4 apple cider

2 large eggs, lightly beaten

Pinch of each salt, pepper, and parsley
1) Place bread cubes in an even layer on a baking sheet and bake 30 minutes or until bread is toasted/crispy. Place cooled bread cubes in a large bowl.
2)Brown sausage in pan then add to cooled bread, reserving sausage grease. Reheat pan and add chopped onions and celery, cooking until tender. Stir in apples and garlic, cook 5 minutes more, stirring occasionally. Remove from heat and add salt, pepper and parsley. Stir.
3) Add vegetable mixture to bread and sausage. In a separate bowl, mix eggs, apple cider, and chicken stock. Carefully stir liquids into bread, sausage and vegetable mixture.
4) Coat a 9×13 pan with nonstick spray and add mixture to pan. Bake at 350 for 30-40 min or until liquid is absorbed and top is golden brown.
This easy and delicious stuffing truly gives the boxed stuffing and (gasp) even Grandma's secret recipe a run for it's money! I hope you enjoy it as much as I did!
As a participant in the Walmart Moms Program, I've received compensation for my time and efforts in creating this post. All thoughts and opinions are my own.