As moms, we tend to hold ourselves to a pretty high standard. If we are completely honest, we expect too much of ourselves as we constantly believe the lies that we are told about having to be perfect, make our kids our whole world, and forsake all other parts of life because you became a mom.
With seven kiddos under my wings, and over 15 years under my belt, I can assure you that there are some lies we believe that prevent us from being the best mom we can be. I'd like to try to help you realize that these lies only hold us back; they prevent us from being all that we need to be to raise well-rounded and happy children, without driving ourself insane.
Don't listen to these lies. Instead, embrace the truth.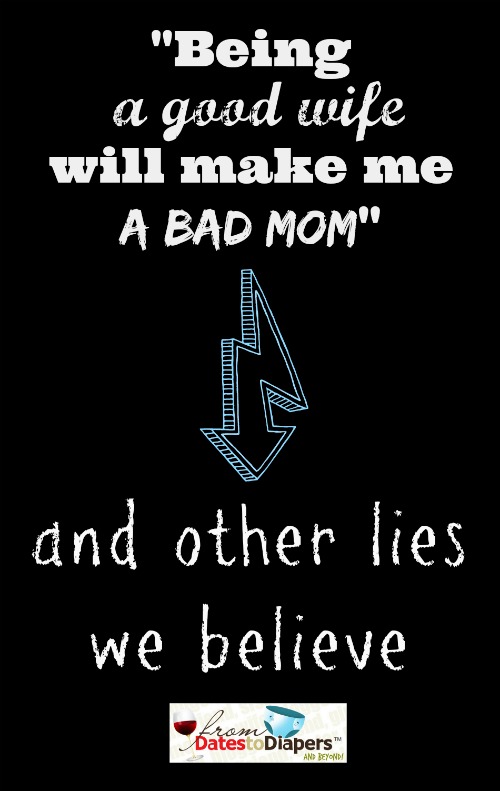 Lie – My world has to revolve around my kids.
Truth – It doesn't have to. It really is okay to let your little one skip a nap, so you can meet your sister and nephews at the park. It's okay to have a few friends over after your babies are in bed, even if y'all aren't quiet. (Yes, it really IS okay if you aren't tiptoeing around when he's sleeping.) Junior will get used to the noise or minor disruption in his schedule. I promise. You, sweet mama, can still have a life. A life that is only more full with your children in it.
Lie – There is never any time for me.
Truth – You must MAKE time for you. Even when your babies are teeny. I know, new moms, you don't believe me, but Junior really will be okay if you swaddle him and place him in the bassinet just outside of your bathroom door. Take that long, hot shower and shave your legs. Or, pour yourself a cup of coffee and spend some alone time with the Lord. Junior can't go anywhere and it really is okay if he whimpers for a few minutes before you tend to him. You MUST take time for yourself each day, at the beginning, without guilt.
As baby gets older, have a trusted friend or family member tend to Junior for a few hours each week. Meet a friend for coffee, have a dinner date with your husband, get your nails done, read your Bible at a local coffee shop. And remember  – no guilt. You MUST take care of you.
Lie – I can't have real friends.
Truth – Friendships seem to change as you start a family, but just because you have babies doesn't mean you need to give up on friendships. When I was pregnant with Ben, I felt isolated. After all, I had four kiddos, 4 years old and under, and I rarely left the house. I turned to the internet and saw an incredible opportunity to connect with the online mom community. My online friends became my "real" friends and are still some of my best friends to this day. Being a mom doesn't mean you can't have friends; it just means your friendships change.
Lie – Imperfection is not an option.
Truth – No one is expected to be perfect, so stop expecting yourself to be. Moms get frustrated and yell. We forget to pick up our kids on time from soccer practice. We let crumbs stay on the floor and clean laundry in the washer for hours, sometimes days. We all have shortcomings and disappoint. What's most important is how you deal with those shortcomings. Apologize, make plans to be better, move on, and try. Do your best, but don't beat yourself up.

Lie – Happiness is being a mom.
Truth – Being a mom is hard, y'all. You will have challenging days. You will have bad days. In fact, some days you may even wish that you didn't have the responsibility that children bring. That certainly doesn't make you a bad mom and it's completely normal. If these "bad" days are more often than not, however, please talk to a friend or even your doctor. You may have symptoms of depression that need to be addressed.
Lie – I must make every day fun for my kids.
Truth – Life is meant to be lived. Life is not always fun. It is not our job, as parents, to make life fun or to entertain our children 24/7. It is our job to teach and train them to be responsible, respectful, and God-honoring individuals. The best way we teach is by example.
And, last but not least, my favorite lie to bring to truth… 
Lie – Being a good wife will make me a bad mom.
Truth – You can make your husband a priority without compromising your ability to be a good mom. In fact, making time for your spouse will, in fact, make you an even better mom. Trust me. You and your spouse will have a deeper connection and will be better able to parent. It's only when the two of you are connected – emotionally, physically and spiritually – that you will have the energy and emotional capacity to be the best mom you can be.
What's more, your husband will thank you for making him a priority. And, when all of your kiddos fly away, you will not have to get to know the one you devoted to love and cherish all over again. So, make plans to go out on a date once a month. If it truly is impossible to have a trusted friend or family member watch the kiddos, put them to bed early one night and have a candlelit dinner. Talk about life, without bringing up the kids. Or just enjoy each other's company.
The simple act of making your husband number one in your life will make you a better mom. Trust me.
What would you add to the list of lies we believe?