Raising seven kiddos has its challenges, but bath-time has never been one of them. All of my babies have thoroughly enjoyed this special time that would end with a sweet massage before bed.
Though it's been almost sixteen years, which is so hard to believe, I remember giving my twins their first bath at home using JOHNSON'S® HEAD-TO-TOE® baby wash, most likely because that is what their cautious nurses were using in the NICU to bathe them. This wash quickly became our favorite and it was all I would use. Now that my babies are older, they still enjoy a nice hot bath full of bubbles, so I often reach for this liquid gold to create some sudsy fun for them.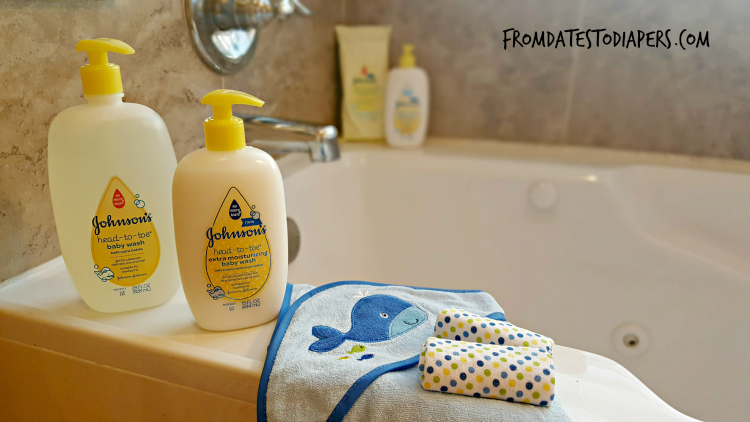 JOHNSON'S® HEAD-TO-TOE® baby wash is an ultra-mild cleanser clinically proven safe and gentle enough for baby's delicate skin and sensitive eyes in those first few days of life. JOHNSON'S® HEAD-TO-TOE® baby wash and NEW HEAD-TO-TOE lotion were specifically designed to work together in harmony with mom's touch to nurture baby's happy, healthy development. The overwhelming majority also said that after only a week their baby smiled more and had increased eye contact, which made mom happy and confident.
JOHNSON'S® was one of the first companies with whom I partnered as a new blogger, but I was a brand ambassador long before I started my blog. I am excited to have partnered with JOHNSON'S® yet again to introduce you to their brand new HEAD-TO-TOE® bath time washes, creams and cleansing cloths.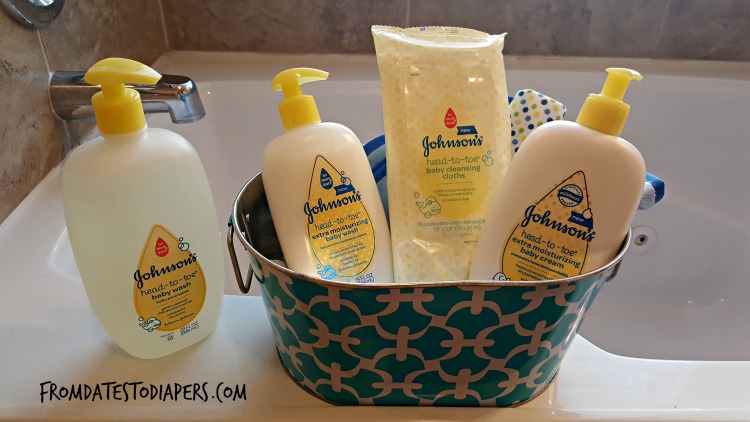 Each of these new JOHNSON'S® products help parents keep baby's (and even older kiddos') skin nourished and clean, whether at home or on the go, in the tub or out. In fact, I immediately threw the new cleansing cloths in my handbag, because I know I can never be too prepared when out with my kiddos every day. The new HEAD-TO-TOE® baby lotion smells amazing and is perfectly pH-balanced and infused with vitamin E and baby oil for baby's tender skin. It's not just for babies, though – we all use it!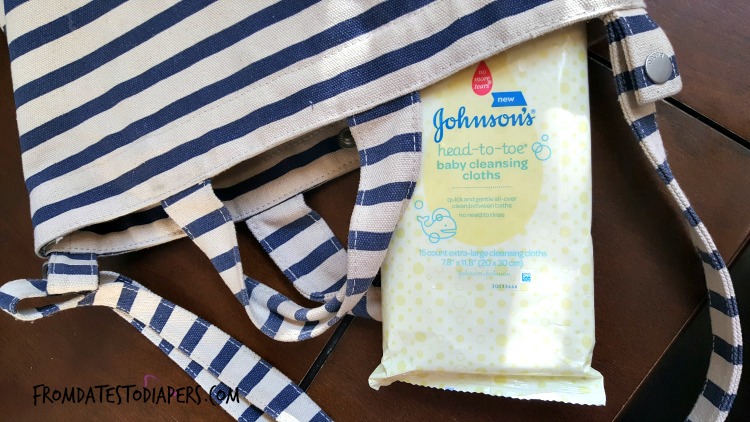 Fun & Interesting Facts from JOHNSON'S®
BENEFITS OF TOUCH
Skin is the first sense organ to develop prenatally, making touch the first sense to develop.
Babies are dependent on touch for exploring the world.
Baby's first sensory stimulation in life comes from touch while still in the womb.
Touch is so important that some consider skin to be the external nervous system.
EARLY CHILDHOOD DEVELOPMENT
While genes play a role in brain development, experiences have a significant impact on how it develops
Stable, caring and interactive relationships with adults promote healthy brain development.
During the first three years of life, every touch, every smell and every moment helps shape baby's brain.
The ongoing interchange between parents and baby, baby's genes and different environments in which children are born, grow, learn and live helps shape the developing brain.
In addition to baby's genes, the brain develops and organizes as a reflection of developmental experience.
JOHNSON'S® LEADERSHIP
As the #1 baby skin care brand, JOHNSON'S® has been providing safe products that are formulated and designed with baby in mind for over 120 years.
JOHNSON'S® is the 1st baby skincare company to study how baby's skin develops from birth and evaluates products across different skin ethnicities and continents.
JOHNSON'S® has been leading the science and setting global standards in baby skin care by developing high quality products that are safe and extensively tested.
JOHNSON'S® has helped advance 90% of research on the understanding of baby's skin.
Disclosure: I've partnered with JOHNSON'S® and have been compensated to bring you this post. All opinions and thoughts are mine.