Julia and I do a whole lot of baking and it's not entirely unlikely that we have to wash our cookie sheets every day, more than once. Needless to say, both of us were excited to hear about new Reynolds Cookie Baking Sheets. They are pre-cut parchment sheets that provide an easy, convenient way to "Bake the Perfect Batch."
Yes, I know – Reynolds Parchment Paper rolls have long been helping cookie bakers with easy clean-up and non-stick solutions, but these new Reynolds Cookie Baking Sheets provide all the benefits of a parchment roll, without any measuring, cutting, or curling. These pre-cut sheets lay flat and are perfectly sized to fit standard baking sheets. The best thing about baking with these pre-cut sheets is the easy clean-up. There will be no more searching for a clean cookie sheet when the baking bug hits!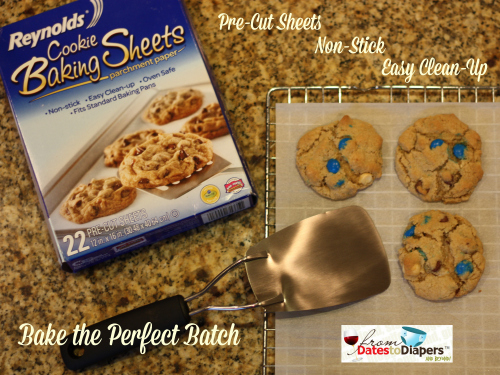 You can get new Reynold's Cookie Baking Sheets at Walmart for just $3.48 per box of 22 sheets.
As a participant in the Walmart Moms Program, I've received compensation for my time and efforts in creating this post. All thoughts and opinions are my own.