At the end of the summer, Staples asked me if they could send us a Kindle Fire HD in exchange for a post on Back to School Firsts. The idea was to get the books on the Summer Reading List checked off, which the Kindle certainly would have helped my older kiddos do, but I had something additional in mind…
Last month, Ben began his first year in full day school outside of the home, and I wanted to document this first for him. He was nervous. I was nervous. But, we had a couple weeks with the Kindle Fire to help prepare him.
How did we do this?
Because he was not yet reading, we downloaded some beginner reading apps and Ben spent quite a bit of time playing with the ones that focused on phonics and sight words. The Monkey Preschool Toolbox is a favorite of Timmy's, so I had Ben try Monkey Word School Adventure and he really enjoyed it. He seemed to breeze right through the first few games, but he played again and again. I can only believe that increased exposure to the sounds of the single  and double letters will be helpful as he begins to read them all together.
Hooked On Phonics is another one of his favorites. The entire Hooked on Phonics program for the Kindle was a bit pricey, but I bit the bullet, because I've heard of great results. Ben is not quite as interested in this as the other, but it seems to be a bit more of what he needs to begin reading.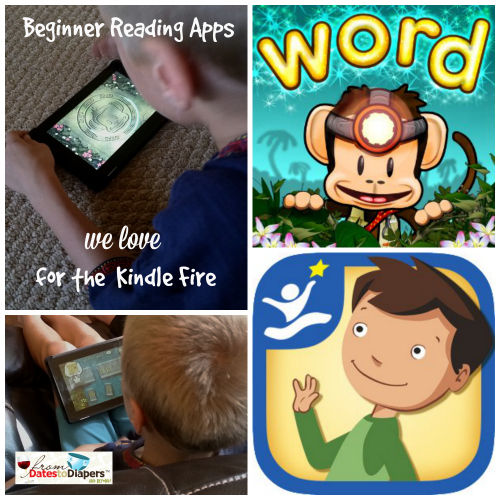 Ben also really enjoyed reading the Level 1 books we downloaded on the free Kindle Reading App. The best part? With a little help, he read every single one we downloaded!
After the first 5 weeks of Ben's new adventure, I am hopeful that he will continue using the Kindle throughout his entire first year of school.