I know, I know… Christmas is over. But, the cold and wet weather is sticking around for awhile. Which means our energetic family – much like yours, I'm sure, unless you live in Florida – must turn to indoor activities to keep us busy and active.
This last week was the most wet week of the entire winter in Northern California, thus far. It kinda worked out, though, because we were sick and confined to our warm and cozy house. Of course, being sick meant that our wintery weather "fun" consisted of watching movies and playing the Wii, when we weren't passed out with fever induced sleep. It was quite sad. (We are now mostly all on the mend, with only Ben down with the bug. He is being such a trooper… Poor guy!)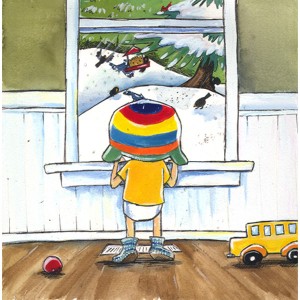 Even on a sick-free day it can be quite challenging, especially for a not-so-crafty mom like me, to come up with fun and unique indoor activities to keep the kiddos busy on cold, rainy days. But, like many of you, I like to turn to the oldies, but goodies – games, baking, and indoor forts and tents!
As promised, I would like to share with you one idea that was given me by one of YOU. Justine is the winner of the $50 Visa gift card giveaway that we hosted, on behalf of Campbell's Chicken Noodle Soup, this last week. Justine has a great idea for creating some lasting memories with cold-weather fun ::
When you see it is snowing outside, take a clean baking pan or huge bowl and set it outside where it can collect snow. When it is full enough, bring it inside and scoop some into bowls for the kids (and parents too probably!). Then sprinkle powdered drink mix (think cherry, grape, etc) on top and eat, YUM! A REAL snow cone for a change, and they're almost free!!
It almost makes me wanna live where it snows. Almost.
Like Justine, many of you gave me some great new ideas. Ideas that I am eager to try. Some of you reminded of me of fun activities that we could be doing to stay busy during this time of the year, but aren't. Here are a few of my favorites from YOU::
Make homemade soap or crayons
Have an indoor scavenger hunt
Put on a talent or puppet show
Host an indoor campout, complete with roasted hotdogs and S'mores
Make Pinecone Bird Feeders (look for the how-to's for this one, coming soon!)
Act out stories and recite poetry
During these wintery weather months, especially, I would so like to engage in more structured activities with my kids (aside from school work) and y'all have inspired me!
In honor of your inspiration, I'd like to challenge myself to be more purposeful in planning a new activity with my kids each day this week. Maybe I'll even throw in a craft, or two, as well! Maybe.

Would you like to join me? It can be a new recipe you've been dying to try with your little bakers. Or, perhaps that craft that you've seen on someone's blog that you know your kiddos would love.

I'm up for the challenge. How about you?
This post is sponsored by Campbell's Chicken Noodle Soup who wants you to know that 32 feet of fresh egg noodles go into every can. For lots of fresh ideas about how to keep your kids entertained and the chance to win $500, check out Wintery Weather Fun at DivineCaroline.