The back-to-school season may have just arrived, but it's never too late to fine-tune the habits that will get this school year off on the right foot.
One of the best ways to get started on the right foot is by knowing which habits to avoid.  These are the most common habits that students struggle with, and by recognizing them and tweaking your family's habits, avoiding them all together means your family will also avoid the other common side effect of these habits: poor grades.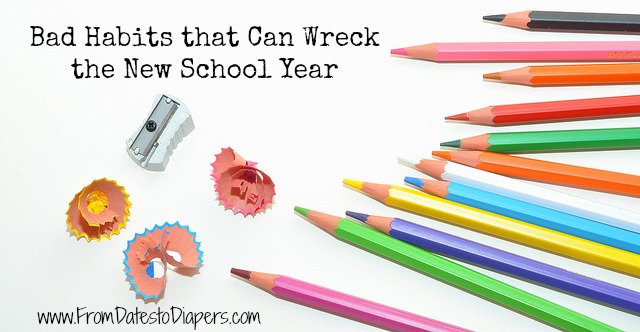 1. Not getting enough sleep.  It doesn't matter how old your child is, kids need a bedtime. In fact, studies show that teens need even more sleep than younger kids.  During sleep, the brain files and stores information learned throughout the day, so without adequate sleep, learning can literally go in one ear and out the other.  Not getting enough sleep can seriously disrupt a student's ability to focus in class. To get A's students need to get some Zzzzz's.
2. Skipping meals.  In class, kids need the energy that healthy food gives them in order to be able to focus and learn. Without adequate food, kids will be focusing on their rumbling bellies, not on what they are learning. It's important to—as much as possible—stick to regular meal times to keep kids brains well fueled.
3. Multitasking while doing homework.  Kids are easily distracted by TVs, computers, and cell phones.  So rather than using media devices to complete homework, they often end up being a distraction from the task at hand. Practice shutting all devices off and focus on one offline task at a time. If the Internet is needed for research, save that until all other homework questions have been completed.
4. Procrastinating. Everybody likes to relax after school (or work). But social lives, chores, sports, and extra-curricular activities, make it tempting to leave homework until the last minute. When students put schoolwork on a backburner, it can lead to last-minute scrambles and late-night cram sessions, neither of which pay-off in the classroom.
5. Not asking for help. One of the biggest mistakes that students make is waiting until the last minute to seek help. Rather than waiting for a failing grade before asking for help, students should talk to the teacher at the "I'm-not-really-understanding-this stage."
Oxford Learning provides supplemental education services across North America. It offers programs for young people from preschool through university, and its cognitive approach goes beyond tutoring to ignite a lifelong love of learning. Find out more at http://www.OxfordLearning.com.
photo credit: YannGar .CH via photo pin cc