Over the weekend my Aunt Liz hosted a jewelry party. At this gathering guests could view and purchase antique costume jewelry that had been collected over the years by my Aunt Jo. Now, my Aunt Jo is the Antique Queen! Her house is furnished and decorated solely with antique pieces and is absolutely lovely.
Anywho, at this party, my Aunt served a variety of yummy bites, but her apple dip was one my friends and I swooned over.
Seriously.
Apparently this dip was my Aunt Jo's recipe. Little did we know how incredibly easy it was to make.
And, I got the secret!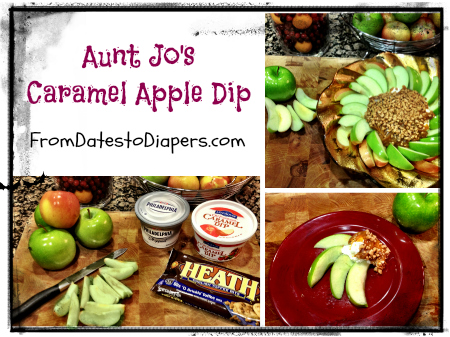 1. Place the whipped cream cheese in the center of a serving plate.
2. Cover cream cheese with caramel dip and sprinkle top with toffee chips.
3. Core and slice the apples. Sprinkle with lemon juice. Place on serving plate.
Viola! A beautiful and scrumptious dip that is sure to be the hit at your next gathering!
Thanks Aunt Jo!