Last night I slept like a baby. It had to be that I was dead tired by the time I climbed into bed (more on why later), but I seriously got one of the best nights of sleep in months.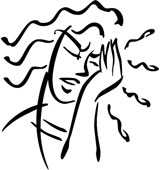 So, I was incredibly surprised this morning, when I woke up with a pain in my neck that literally crawled up through my head and morphed into a migraine, like some horrible alien in a sci-fi film.
Really? Again? This made my fifth migraine in almost the same number of weeks.
I had so much planned today… I wanted to take a walk with my kiddos, a trip to the park with a picnic lunch, get in a bit of snuggle time with my babies, and maybe even get caught up on some emails.
I was robbed of a perfect day.
***7/10 :: P.S. I forgot to tell you that I've had a ridiculous time getting a referral to a neurologist… Still no referral. By the way, I very much dislike my doctor and the PA's in her office! But, I *have* started physical therapy, so I'm making progress with my neck, at least.***