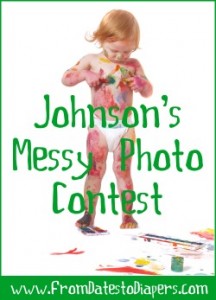 I am pleased to announce the winner of Johnson's Messy Photo Contest!
Head on over and view the picture that won the Messiest of the Messy award, $1,000 and an assortment of Johnson's Baby products, including Johnson's Hand Face Wipes! Trust me, it looks like this family may need more than just a few wipes!
It was a close one there towards the end, but the winning photo received just over 2,000 votes this last week, when all was said and done, with the runner up receiving 1,350.
Congratulations to our winner, and a huge THANK YOU to Johnson's Hand and Face Wipes for sponsoring such a fun contest!