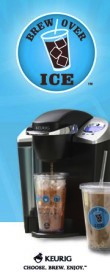 Ray and I love our iced tea lemonade. More often than not it is what we order when out to eat. It is what we crave on these hot summer days. It's what we serve at birthday parties and gatherings.
But, as a busy mom on-the-go, I am glad to have the ability to make a quick Arnold Palmer just before I head out the door to take the kids to the park or the pool. With Keurig's Celestial tea K-Cups, I can brew 6-8 ounces directly over ice, add some fresh lemonade, and off we go. They even have Half and Half K-cups, which are half lemonade and half tea, if I'm in a huge hurry!
If you're one who would prefer iced coffee over iced tea, Keurig's portion packs – or K-Cups, as they're called – are specially blended to create perfect iced coffee at the touch of a button. Each one contains a little more coffee – just the right amount to create a full-flavored, refreshing brew – and are specially designed to brew directly over ice with a Keurig single-cup brewer.
So, tell me – would you like an iced coffe or an Arnold Palmer?
As part of Keurig's Brew Over Ice campaign, they are offering a sweepstakes with some very cool prizes. The grand prize winner gets an Alaskan cruise for two, with roundtrip airfare! One hundred first prize winners will get a new Keurig brewer, and 1,000 second prize winners will receive a sampler pack of Brew Over Ice K-Cup portion packs. Head over to the Brew Over Ice Facebook page to find out how to enter.
I am a Keurig K-Cup Ambassador and have received a Keurig single-cup brewer, as well as a variety of K-Cups to sample, in exchange for this post.