Today was a beautiful Spring day here in our corner of the world. The sun was shining, there was a slight breeze, and the birds were chirping. A perfect kind of day.
It's only once a week that we have a full day to just play, so after some chores around the house, I took Ben, Noah and Timmy out for some fun. Today happened to be the day that there are free train rides at The Fountains in Roseville, so that's where we decided to head. (Free train rides change to Tuesdays next week!)
We arrived just as the train was coming in to the depot, so we had a bit of time to kill before it would be our turn. Apple juice, chocolate milk, tea and cookies were enjoyed as we strolled along the shops, window shopping, of course.
It was so much fun for me to hear the comments from the many strangers who don't have a clue that four of my children were not with me. My favorite was "Three boys? My, do you have your hands full!" Today was a piece of cake, but if they only knew!
We stopped for a while by the big fountain to watch the water spurt about in fun directions to the beat of the music. Making a wish as they throw coins into the fountain water has become a favorite thing for Noah and Ben to do, so I gave them each a coin to make their wish.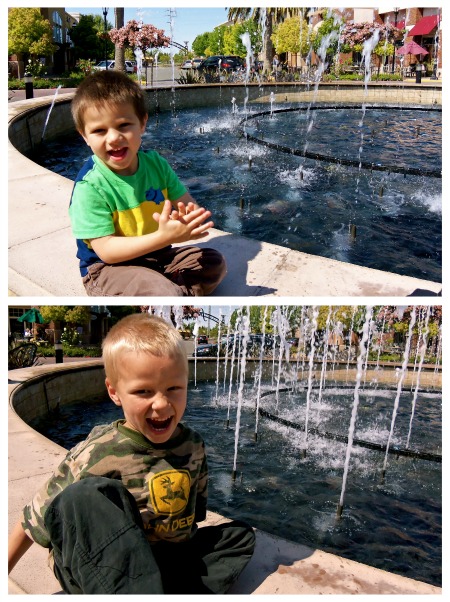 Noah's wish made me giggle – "I wish that another baby would come." Yeah, so not gonna happen! I sorta feel bad that his wish won't come true, but maybe he'll forget about it…
The train ride was a hit! Noah and Ben were so excited to ride around the "tracks" that they just could not stop smiling. And, despite the fact that he looks a bit unsure, even Timmy was all grins and giggles!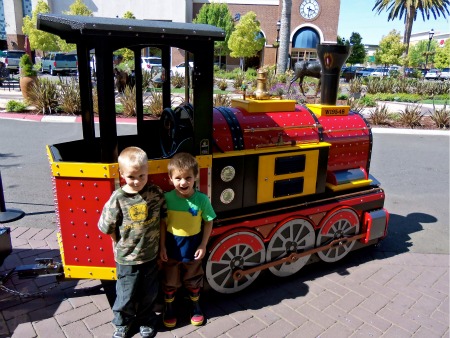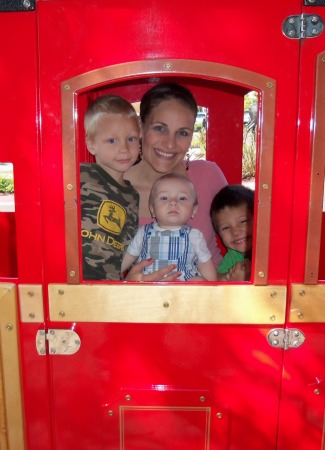 Talk back!
Is there a similar place where you like to take your kiddos on days like today? I'd love to hear about a similar day of fun that you may have had with your little ones!