My allergies get worse and worse every year, it seems. Itchy, watery eyes. Runny nose. Scratchy throat. Sinus pressure. Exhaustion. Ugh!
I've done lots of research and try everything I can to feel better during allergy season. Have you ever wondered how we can improve our eyes' well-being during this allergy season? I hadn't, really. So, I asked for some help. The following tips have been provided by Dr. Jing Han, O.D. He is a VSP Provider in Folsom and El Dorado Hills, CA —
With longer spring days and the first signs of flowers in bloom, parents are getting excited for more time spent with their kids outdoors. However, to fully enjoy the fun activities that lay ahead, allergy sufferers should be prepared for another harsh season.
According to the U.S. National Oceanic and Atmospheric Administration, we are coming off of a mild winter and the ninth warmest year in history. Allergies are a big concern due to mild temperatures causing plants to pollinate early. Also, a rainy spring promoting rapid plant growth can lead to an increase in mold. As a result, typical allergy symptoms such as itchy, red and watery eyes can be more severe.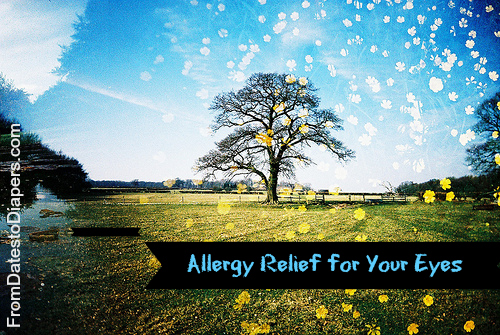 During this time of year, there are simple tips that you can follow to help protect your eyes, which respond to airborne allergens and produce those pesky symptoms.
Wear your glasses—ideally your prescription or non-prescription sunglasses!
Sunglasses create a protective barrier limiting the air and allergens that hit your eyes. To keep your eyes protected, use a good pair of sunglasses that creates a seal between your eyes and the surrounding air. Remember, it does not take much for the eyes to respond with an allergic reaction.
Ask your Optometrist about new contact lenses and solutions that may help with allergies.
Replacing your contact lenses every day using daily disposables will help to remove any airborne allergens that get caught in your eyes during the day. Additionally, new contact lens cleaning products are now on the market that lubricate, clean and coat for better comfort. Contact lenses are also made with different materials that can help sensitive eyes.
Ask your Optometrist to try prescription allergy drops.
Prescription allergy drops are often times more effective than those that are over-the-counter. There are many brands of prescription allergy drops, so if one does not work, consult with your eye doctor to try a different brand. Over-the-counter drops are only half as effective, and some redness-relief drops are being misused as allergy relief.
Talk to your doctor about what combination or treatment plan is best for you.
While many people do not think to ask their Optometrists for relief from their itchy eyes, it's a good idea to talk about seasonal allergies with your doctor during your annual eye exam. Between glasses, sunglasses, contact lenses (or the avoidance of them) and allergy eye drops, there is a good solution for everyone.
By following these simple tips, you can reduce the effects of this allergy season and fully enjoy the outdoors!
photo credit: slimmer_jimmer via photopin cc