Ray and I are big advocates of having regular date nights, but we've also discovered how fun and romantic it is to plan and prepare a meal together at home. One of our favorite meals out is Shrimp Portofino, with a nice glass of wine, so we decided to see if we could re-create this fabulous meal at home – for much less.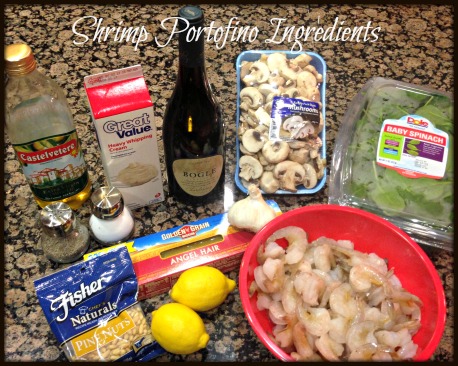 We purchased everything we needed at Walmart to create this delicious evening, complete with a scrumptious chocolate dessert. You, too, can create a romantic evening at home, WITHOUT hiring a babysitter!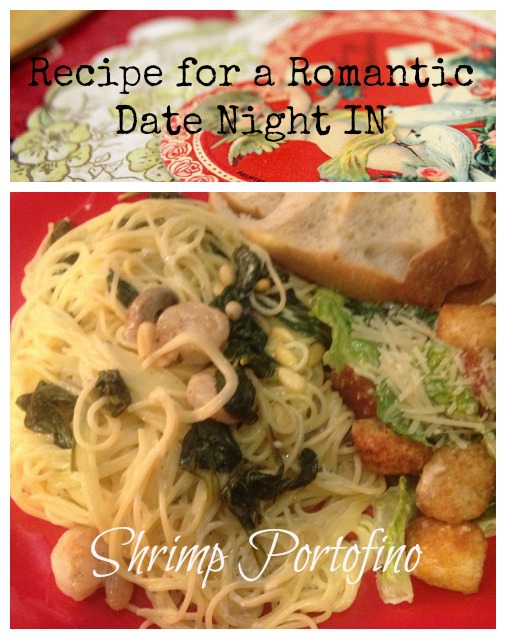 SHRIMP PORTOFINO
recipe adapted from food.com
Ingredients:
3 tablespoons olive oil
2 tablespoons fresh garlic, finely chopped
1 cup white mushroom, sliced
20 large shrimp, de-veined and tails removed
2 teaspoons salt
1 1/2 teaspoons black pepper
1/2 cup lemon juice, freshly squeezed
4 cups baby spinach, fresh
3 cups heavy cream
1/2 cup white wine
1 lb angel hair pasta, cooked
pine nuts
Directions:
1. In a large, pre-heated skillet, add olive oil, garlic and mushrooms. Sauté until mushrooms and garlic start to brown.
2. Add shrimp, sprinkle with salt and pepper and sauté until shrimp turn white.
3. Add spinach, lemon juice and white wine to sauté pan. Stir until all ingredients are mixed together well. Simmer for 1 minute.
4. Add heavy cream and bring to a boil and stir for 3 minutes while boiling.
5. Remove from heat, add pasta and pine nuts, and stir until pasta is hot and all ingredients are mixed well.
6. Enjoy with your sweetheart!
There are many easy and inexpensive ways to celebrate Valentine's Day together, if you decide to stay in, even if you do not prepare a meal…
Watch a romantic movie after the kiddos are in bed.
Prepare a romantic "picnic" in
Create a fun get-to-know-your-spouse game
How do you plan to spend Valentine's Day?
As a participant in the Walmart Moms Program, I've received a product gift card and compensation for my time and efforts in creating this post. All thoughts and opinions are my own.