Yesterday was one of those days in the Texas hill country that made me think that Spring was on it's way. With temperatures in the low 70s, it was a perfect day for soaking in some sunshine. So, after church we drove down to Lady Bird Lake in downtown Austin.
It's looks like we had lots of fun, judging from the photos we posted on Facebook, right?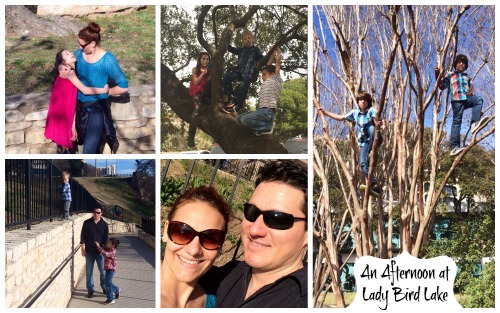 We even managed to grab a fabulous photo of all of our kiddos.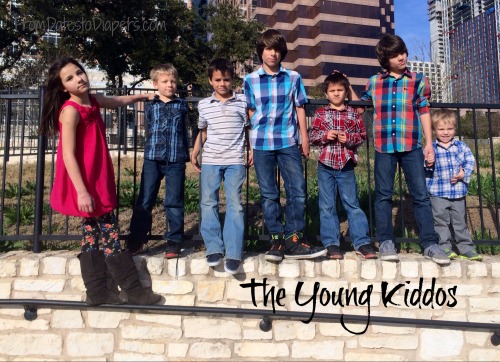 But, our outing wasn't all that it seemed by just a quick glance at a few photos on Facebook. Here's a real look —
First off, we had high hopes of eating near the water. Apparently everyone in the entire Austin area had the same idea. Wait times to sit on a restaurant patio, overlooking the calm water, was close to an hour at more than one restaurant. (We tried two.) Skip that idea. By the time we actually sat (inside) and ordered our food we were quite hungry. And cranky. In fact, Timmy threw a fit at our table because he got what he ordered, but wanted what Josh ordered.
With full tummies, we decided to head out on the trails by the lake. Ray and I wanted to breath in the fresh air, but the kids simply wanted to climb trees. We drove around the south side of the lake for what seemed like ages, trying to find a parking spot. The kids thought we were just driving around – you know, because we parents love to torture our children – and could not understand why we kept going in circles.
Finally Ray parked in a parking garage on the north side of the lake, right downtown, and we began our walk to the trails. Almost instantly, the kids were hungry, tired, hot, and thirsty.
The next couple of hours consisted of grumbling, complaining, scuffling, reprimanding, disciplining, confiscating, bickering, more complaining, and… a couple of great photo opps.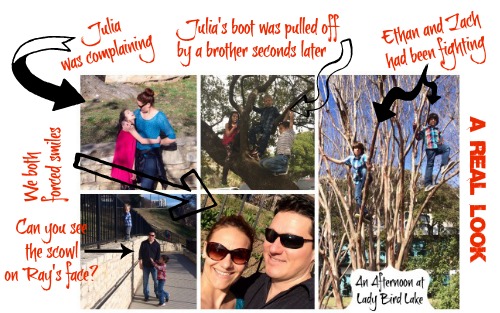 Lesson to be learned: Don't let beautiful photos of smiling kids (and parents) fool you. There's often way more to a family's real life than what is shown in just a couple of well planned photos posted on Facebook.
We're living proof.