My kiddos were eager to start lessons again and we've now almost completed our second week back at school. I must say that if we can maintain the momentum with which we began, this year will be lovely!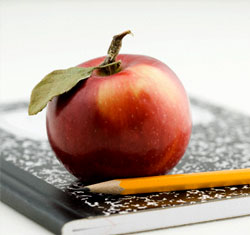 I'd like to think that my children's eagerness to get back to school was due to the fact that they love to learn, but I'm afraid it was more because their neighborhood friends began to disappear every day. At any rate, I'm hoping and praying that this enthusiasm will continue throughout the entire year as we memorize Scripture and as some of my kiddos learn the sounds of the letters, while others study fractions and explore how the human body functions.
Now, I'm not much of a list-maker, but I've always benefited by writing out my goals for a new year, whether it's a new school year or a new calendar year. While my number one goal as a teacher is to instill a love of learning, there are many things I resolve to do every day to accomplish this goal and I've managed to keep my "school year's resolutions"… I know that today only marks the eighth day of our school year, with many days left to go, but it is certainly a good start, right?
One thing I need to work on is encouragement. I suppose encouragement can show itself in many forms ::
Helping the kids through a rough problem, while ensuring them that they can indeed do it
Providing opportunities for them to excel in an area of interest
Allowing ways for them to encourage and uplift each other
Whatever form it takes, I need to remind myself that my kiddos need my encouragement, no matter how difficult it may seem at the moment.
There are so many great things in store for us this year…. I'm exhausted just thinking about it all! To stay refreshed and rejuvinated, I've finally connected with other homeschool families in our community, which was something my kids and I really need this year. We now plan to go on some fun field trips with this new group, connect with old friends who homeschool, and continue to learn about life and the world around us.
I am so excited!
Going back to school is an exciting, fun and sometimes, hectic time. To calm the butterflies and build your kids' confidence, Hallmark has put together this great resource to encourage moms like you. Just for sharing a bit of advice, you'll be entered to win a prize package valued at $500… Check it out!
GIVEAWAY!
You can also win a $50 Hallmark gift card, right here at From Dates to Diapers! Just leave a comment here about your kiddos' first day, week or month of school. I would love to hear about any fun traditions you may have started this year. You may receive additional entries (up to one per day) by tweeting a link to this giveaway, using the hashtag #D2Dgvwy. Be sure you leave me a separate comment for each tweet. A winner will be chosen, and contacted via email, on September 30th.
This post and giveaway are sponsored by Hallmark. The views and opinions are mine.