Let me introduce you to an all new set of blocks. Blocks of the jewelry kind.
Irina, mother and graphic designer, is the artist behind these fun pieces of jewelry made of shrinky dinks. Yep, you read that right – shrinky dinks! At first I was a little skeptical too, but once I saw all of the pieces she has made, I knew that her jewelry would be perfect for some of the special people on my Christmas shopping list. And, because I am a sucker for pink, I knew I needed the butterfly necklace!
You truly have to see them to believe it. So, run over and check out her site, i love blocks… I'll wait….
Okay, so now that you've seen Irina's work, wouldn't you agree that her jewelry would make a great gift? All of her pieces posses a funky and unique quality that I've never seen anywhere else. In fact, a good number of her pieces are inspired by the photographs that she loves to take.
Do you have a nephew or cousin, on your shopping list, who may enjoy a fun piece of art to wear? How about your babysitter? Well, gift them with blocks!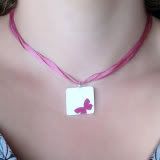 WIN IT! Would you like to win a Butterfly Necklace, like mine, from i love blocks? Visit i love blocks, then leave a comment here telling me who on your shopping list would enjoy a piece of block jewelry. A winner will be selected randomly at midday on December 6th Monday, December 10th. Good luck!
I would love if you could help spread the word about i love blocks, and this giveaway, however it is not a requirement to win.
This giveaway is now closed. Thank you all for entering!