If you are anything like me, you still have some shopping to do to complete your list, so I thought you could use some great ideas for those last minute gifts you have yet to purchase. Now, I really don't want to hear that you're finished shopping and all ready for Christmas, so humor me, m'kay?
FOR THE COFFEE LOVER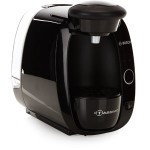 We're not big coffee drinkers, but I do appreciate a good cup o' joe every now and again. I can't always justify Starbucks' prices, so I was happy to give the Tassimo Beverage System by Bosch a go. Apparently it is the only home brewing system that prepares everything from coffees and teas to rich cappuccinos and lattes. It even whips up some killer hot chocolate! The pods are available in many brands from Maxwell House to Starbucks, and more. The best part? The Tassimo can brew a cup of goodness in about 1 minute and it's super easy to use. (So easy, in fact, that my kiddos each made a cup of hot chocolate one morning before I even came downstairs!)
FOR THE COOK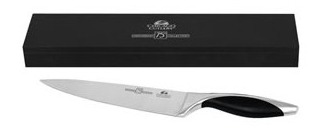 I don't think I've ever owned a knife as beautiful (or as sharp) as the Chicago Cutlery Chef Knife I was sent last month. Not sure if I should admit that, but I seriously am scared of this knife and have hid it from slippery little hands. If even I – as one who doesn't like to cook – can appreciate the Chef Knife, I know that it would be a welcome addition to any cook's knife collection. Chicago Cutlery provides proof that good knives don't have to cost a fortune.
Prepare yourself now for some "knife speek" (It's all Greek to me) :: High-carbon stainless steel blades matched with polymer/steel combination forged handles provide contemporary and elegant styling that is also extremely functional. Exclusive Taper Grind edge technology for optimum sharpness, edge retention and easier resharpening. The fully forged bolster helps keep finger from riding up on the blade and also increases weight, balance, and safety. Full tang stainless steel blade extends from tip of the blade to the end of the knife forming a part of the handle adding balance, strength and control. Dual-material stainless steel, polymer handle increases grip and combines comfort and safety with sleek, contemporary styling.
FOR THE LITTLE MONKEYS::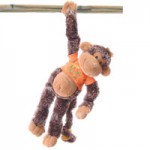 Aurora has a wide variety of stuffed animals that are sure to become any kiddo's best friend. Their soft and fluffy monkeys are so adorable and are loaded with personality, lovable smiles and a signature banana in the tail. Cheeky Charlie & Cheeky Carmen have velcro hands that make "hanging out" easy and are super cute.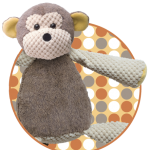 A Scentsy Buddy would not only make a great gift because it's fun and cuddly, but also because it's practical. How? you ask. Well, inside of each Buddy lives a wonderful scent meant to be released with each squeeze. Just insert a Scentsy Scent Pak inside your Buddy's pouch and you're set! (I recommend the Lavendar scent – it truly creates a relaxing atmosphere. And, who wouldn't want their little ones to be a bit more relaxed?)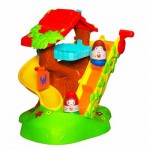 There are all kinds of levels of wobbly fun for you and your two friendly-faced WEEBLES in the Musical Treehouse. Let them look around "far and wide" and send your topsy-turvy little figures up to the treetop by turning the crank. Then, send them gliding back down again on the curvy slide. Up and down — and still more fun is coming! Is it the 4 songs or 8 different sound this playset plays that have your WEEBLES figures rocking? No, it's the lilting and tilting of the fun wobbly deck! Make some of your wobbly friends play hide and seek, but it's hard for them to stay hidden for long — they always end up wobbling around and giving up their spot!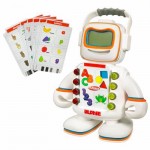 This ALPHIE robot is on a "field trip" from his home planet and, with a kooky grin and funny faces, it's his "mission" to explore the world! There's practically nothing this little dynamo doesn't want to "talk about" — from letter sounds and shape sorting to patterns, cause and effect, vocabulary development and much more, your ALPHIE robot is like a classroom in one little portable robot buddy. Educational fun on-the-go is as easy as can be, too, with this little guy's handled noggin and storage spot for his cards in his backpack. There's a whole lot to discover when you're a preschooler and this ALPHIE figure shares one of the most important lessons, too: learning can be tons of fun!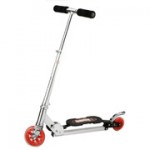 The Shox Scooter is the first scooter with Shox, giving the scooter spring action for higher jumps, bigger tricks, and more air. Josh is a big fan of this scooter and has mastered all sorts of tricks. He's eager to keep up with his older brothers, but because he's still a bit too young for the RipStick or ShredSled, this is a perfect compromise.
I would definitely recommend a RipStick or ShredSled for the older kiddos, though. These skateboard-like contraptions look incredibly fun, but I would personally never try to ride the thing… I'd be sore for days!

Tony Hawk SHRED includes a motion sensing skateboard/snowboard for the Wii that allows players to control the action with their feet to perform amazing tricks in the game. The twins thoroughly enjoy playing this game as they virtually skateboard,  clearing huge gaps, hitting massive drops and riding out roller coaster grinds. Using the board as a snowboard they can speed down mountain peaks filled with breathtaking big airs, crazy spins and incredible flips. The game's intuitive controls and multiple difficulty levels make it easy to pick up and play. A great game for the older kiddos (or even 'board loving adults) in any family.
FOR THE WHOLE FAMILY::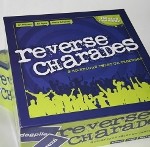 Reverse Charades is a hilarious twist on a classic stand-by (where one person acts out words for the team to guess). With Reverse Charades, the entire team has 60 seconds to act out as many words as one person can guess. It's fast-paced, fiercely fun team competition that's an absolute riot with groups of all ages. A slam-dunk gift idea that provides a lifetime of priceless memories for the budget-conscious.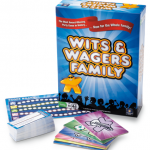 Wits & Wagers Family is a trivia game where no one needs to know any trivia. Better still, the questions are aimed at kids, so they have a greater chance than their parents of guessing the answers correctly. First, every player writes down a guess to a fun question. Then players try to score points by choosing which guess is closest to the right answer without going over. That's it… easy enough  for even the youngest kiddo to play!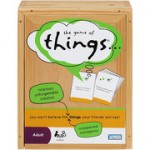 You won't believe the hilarious, creative, outrageous and unforgettable things your friends will say! In The Game of Things… you draw a topic card and read it out loud. For example, "What are things a chimp thinks about when he sees you at the zoo?" Then the other players write down their own responses: "You think I'm weird looking?" "What are you looking at?" or perhaps "Are you my mommy?" Then try to figure out who said what. Remember, people can write anything that comes to mind, so this game can get really outrageous!
.
We received many items at some point during the last couple of months, in hopes that we would tell you about them. While there were many that didn't make the cut, we can whole-heartedly receommend giving any of the above-mentioned items as gifts. Or, perhaps, even buying them for yourself (like that Tassimo!).