Last week OfficeMax surprised 1,000 teachers across the country with a total of $1 million in classroom supplies, thanking them for their hard work and dedication in the classroom.
To the average American teacher, "back to school" means spending approximately $1,000 out of their own pocket for essential classroom supplies.OfficeMax founded A Day Made Better to help ease the financial burden on teachers and recognize their extraordinary efforts in the classroom. On October 1, OfficeMax associates around the country will surprise 1,000 teachers with a total of $1 million worth of school supplies. Since 2007, A Day Made Better and other OfficeMax Goodworks programs have contributed more than $25 million in grants and supplies to support more than 31,000 teachers and their classrooms. Additionally, through the annual event, OfficeMax has helped its nonprofit partner AdoptAClassroom.org secure funding for more than 100,000 classrooms nationwide. Learn more at adaymadebetter.com.

I was given an exclusive opportunity to make a difference in my community by surprising a deserving teacher in our community. We chose to honor Noah's 1st grade teacher on behalf of OfficeMax, so Ray and I wheeled in a posh desk chair with the huge box o' goodies sitting on top. In the box were school supllies, a Kindle Fire, a digital camera, and more. Boy, was Mrs. Youngblood surprised!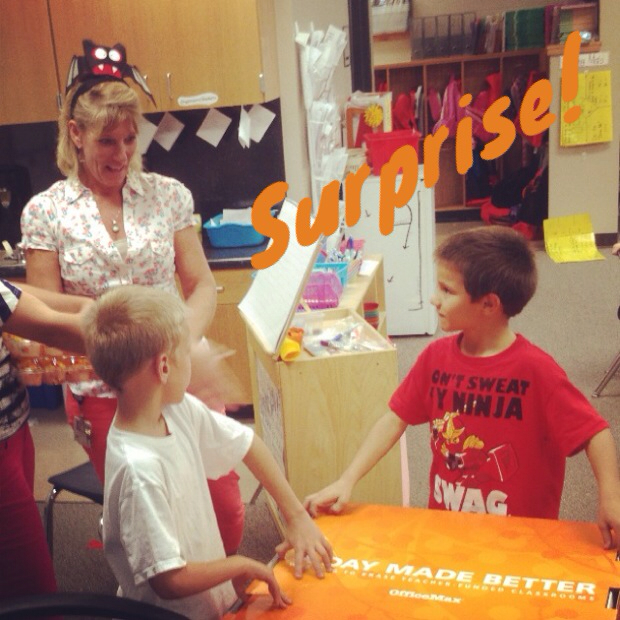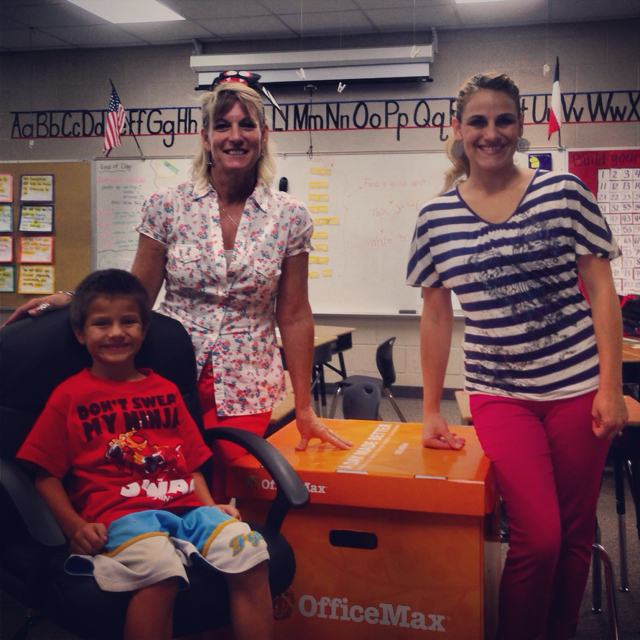 OfficeMax is offering a $100 gift card to one of my lucky friends, so you too may join in the cause and surprise a teacher in your community. All you have to do is leave me a comment below telling me about your child's teacher and why you think he/she deserves to be honored. I will randomly choose a winner from the comments on October 21st, and the gift card will be sent out.
Disclaimer: OfficeMax donated the classroom supplies that I received and donated to the teacher. The gift card featured in this giveaway is also provided by OfficeMax and will be sent to the winner directly. Opinions expressed in this post are 100% my own. I have not been compensated for this post in any other way.